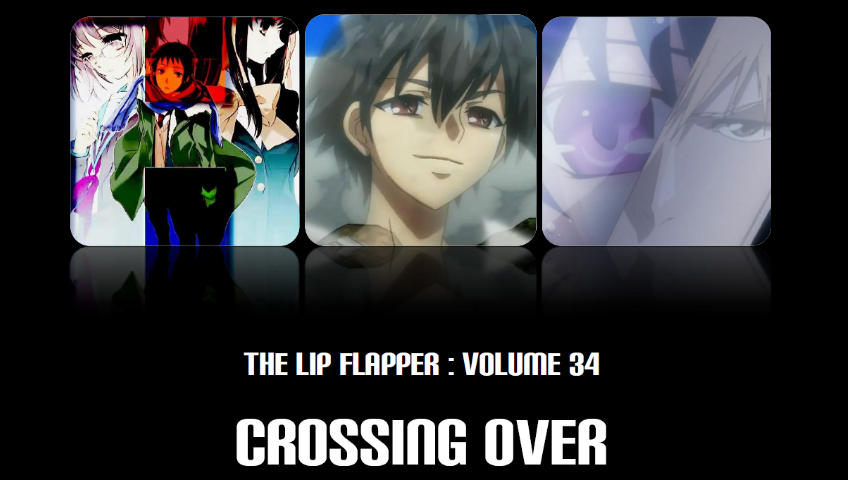 An AMV Interview
Hosted By: CodeZTM
Featured Editor: TritioAFB [
Org
] [
YouTube
]
PDF Version Option [
Dropbox, Right Click Save As
]
Lip Flapper Main Page
-----
Editor Spotlight
TritioAFB has been a member of a-m-v.org since 2009, and has a presence in many online AMV communities, including AMVNews and ZonaAMV. He also has an fairly active YouTube account utilized for uploading many videos from many different parts of the world. He is also an active judge in many online AMV competitions. In terms of editing, he is most known for crossover AMVs, utilizing footage from many different anime to create one cohesive story.
Notable Works:
Say Goodbye (November 3, 2012) :
http://www.animemusicvideos.org/members ... p?v=189713
Prelude to Death II (May 1, 2012):
http://www.animemusicvideos.org/members ... p?v=187216
Angeles Y Demonios (October 5, 2011)
http://www.animemusicvideos.org/members ... p?v=184271
My Story – I'm Not Alone (July 1, 2011)
http://www.animemusicvideos.org/members ... p?v=182888
Let Me Know (Avencia) (July 7, 2012)
http://www.animemusicvideos.org/members ... p?v=188256
-----
AMV Interview
Q: Thanks for joining me today Tritio! Care to introduce yourself to the audience and let us know a little bit about yourself?
A: No problem and thanks for inviting. Hello all, my name is Lenin Alexander better known as Tritio, I'm 23 years old. In the real life I work as a General Doctor in a public hospital from my city San Pedro Sula, located in Honduras, a Central American country. In the day I have to spend the time working with the patients, and at night I go to relax watching some anime and making clips that could be MADs or AMVs, depending of what I want to create in the moment. Been a member of the org since 2009, although I was following it from a very long time ago. After getting involved I learned here the concept of being part of a community since in the past I used to be a solitary editor, and the reason why I avoided the org in the past, as now I can assist and help any editor that needs my help, between the feedback, organizing an AMV Contest, or just exchanging ideas for videos. And I'm a member of the ZonaAMV (ZA), the spanish community for AMV-Makers
Hmm yes, that's me
Q: Thanks again for joining me. Let's start things off and ask you how you got involved in the world of AMVs?

It's curious how in my beginnings I used to dislike anime when I was 5 years old. Although in the national television everyday anime used to be brodacasted in different channels, Local problems related to violence affected the anime industry here. So an anime restriction came and the anime was suspended and forgotten for a time 'This is the Restriction I mentioned somewhere here' but by that time, I was becoming an anime fan.
Returning: I used to dislike the anime until I visited grandma's house. That day, some cousins were watching Sailor Moon. When I first watched it I was like: meh, but as days kept passing, I was suddenly interested in the story (Nor to mention that the cartoons suddenly started to get boring) so I gave it a try. This happened in the 90s. When we reached the 00's, the only series I was following were Sailor Moon, Saint Seiya and Neon Genesis Evangelion. Ironically I missed Dragon Ball Z because 'It was forbidden to watch DBZ because it was a Violent show in the house' and the rest of animes I was watching...
Now, how is this related to the AMVs?
Back in August 25, 2002 I was watching Sailor Moon and there was a random song playing near. By accident, I muted the episode I was watching and the song kept playing. I was amazed how the song was fitting the episode I was watching, but I didn't know this was an AMV until some years later. The same day I decided to pick the few episodes I got with me, find the song and decided to make something into the mysterious 'Windows Movie Maker' since by that time I didn't know about this program.
After making the first video, I was amazed that anime and music could make an awesome combination, so I decided to keep practicing and practicing. After the anime restriction back in 2003, It became harder to get the anime, and there were random laws forbidding the distribution of anime included the internet services, but there was still a possibility, since we had to change the names of the episodes using just the abbreviations like S.M.EP.1, in order to continue following the anime. At the beginning it was harder to get newer animes but I kept finding new songs and meeting people. This is where the org enters since I found it during a search for some anime. It was the first time I saw the word A-M-V.
Thanks to the AMV I was able to discover the new animes, since the word AMV wasn't banned. So I wasn't out too much even when the anime was suspended. This is how I get involved with the AMVs
Q: So you're a doctor! A busy one at that! How do you manage to organize your time between your busy worklife and AMVs? For the would-be doctors out there, what's the profession like?
A: With a single word: Discipline. I organize myself so that I can decide which days I'll edit and which days I'll be out from edition. In the day, from the moment I wake up, I have to get ready to go to the Hospital. I stay all the 7 days of the week in it, at different times of course
If you take a look to my quote "Working in the Hospital in the day, making AMVs by night" that resumes how I distribute the time. Problem comes when I have to work at night and then I have to close proyects, but in order of priorities, the work is more important than the AMVs, because the fun can wait while a Human Life can't.
It's curious that several patients here call me Dr. Tritio since there are several of them who have watched or realized what I do in my free time. Even between the others doctors, I'm surprised they take the time to watch my videos, since they admired the fact that even with the huge amount of work I normally have, I still have time and patience to do a hobby like the AMV-Making.
For anyone that wants to study the art of the Medicine: You should know that if you want to become a medical doctor, you should be ready to study a lot, have a lot of patience, and have a lot of stamina and determination. This career is long and it might bring you good and sad times specially when a person dies, but if you know what you're doing you'll never have any problem. And you must treat the patients like if they were your real siblings, otherwise you can't expect to be a good doctor if you don't treat them like you'll do with your beloved ones, then you can't deserve to be a medical doctor.
Q: You seem to do a lot of "crossover" AMVs, which is fusing two different types of anime and creating the illusion of only one anime being used. What's your reason behind the creation of these kinds of AMVs, and do you have any advice for those out there that might be interested in the prospect?
A:Yes, and there's a reason I never mentioned here or in the skype chats:
When I used to be a child, I always dreamed with the possibilities of watching my favorite characters mixed in the same video but looking like they were in the same anime. I grew up with that idea in my mind, but didn't know how that was supposed to be called, so I thought it was the classical 'Anime Mix'
I promised myself to do 'Those videos' before I started to lose interest in the anime, although it took me 8 years to gain enough experience about the Crossover Style
Have you watched Umika or Galia&Kitty? Not only them, also the rest of users of the Crossover Style: We share common facts behind the making of the videos, like if once we watch a new anime we can see 'The AMV and all its protagonists' inside it. Or we can already see the 'Possible Story' Behind the characters and previous anime watched.
I advise everyone that wants to try crossover: You should already know what you're going to do. Find the similitudes between the anime chosen, cause if the animes doesn't fit, the edition will become harder and you might probably give up soon.
Crossover requires a lot of dedication, because the success behind a crossover-style video is how with the current mix, you can show an alternative story that becomes interesting for anybody, fans or people that have never watched the animes in the video.
I recommend you to try it at least once, you'll realize the style is very addictive once you try it
Q: You seem to have quite a tether with AMVNews and the Akross competition. Care to share a little bit about the Russian AMV culture, or perhaps about your experiences with them?

A: Ah the russians buddies...
Normally in the journal entries, I keep mentioning facts about the russian culture from time to time.
My relationship between Russia and me
Back years later, I met EvilSpider and the AKROSS Con, the Winter Contest. I liked the fact that the criticism was really helpful, something that I was looking for. I decided to support and help the event AKROSS Con from that day until now, as a co-helper for the foreigner editors that join the first time to our event and explaining the rules.
About AMVNews: The first days were troublesome because I had conflicts with some administrators, but once we decided to forget the differences for the sake of the AMV world, I decided to not only support the AKROSS Con, but also the AMVNews administration with the Russian contests: Big Contest, Level Up and the Natsuno Contest, as you can see that I was a judge for those events in the past.
Once you meet the russian they can be your friends. And they are very honest when dealing with feedback which is something I appreciate. Problem is that the points of view about the amvs are different as russian community call them 'Clips' and rarely AMVs. Nor to mention that the community focus more into the technical aspect of the video in balance with the concept.
Sometimes I can't really understand them when I find a decent video and they are still esceptic about it while other videos that are not that 'so good' get famous. Differences between communities, yes, but still they are just something.
By the way, I tend to teach about the spanish language between the russians, since I noticed an interest about our language, so I gave some editors ideas of Spanish music that could be used for AMVs.
I have also been related with the French community and the Italian community. With the Italian Community, I never gave thanks to them, so in my next video, its title is inspired in the Italian language
Q: Quite often, you're involved with judging AMVs in various contests around the internet. What's your secret to judging, and what would you advise to potential judges?

A: The only possible secret is to stay focus in what you are going to do. I can have an Opinion as a viewer and as an editor, but as a Judge, I have to think twice what I'm going to say. If I have been chosen to judge an AMV Contest, I'm supposed to say and see many facts that normally I wouldn't. Besides, the function is not only limited to just watch and say an Opinion about the videos, but also think about the rules and the judgement criteria for the videos. I prefer to at least have a kind of 'Format' of how I'll do with the contest.
Advises: -If you're a judge, you can't just comment like you'll normally do. To every action there's a reaction, so you have to be ready to justify all your actions with the contestants.
-Don't be scared. Being a judge will help you also to learn and have a wide vision of the AMV World, as it will help you gain experience once you want to organize your own AMV Contest. If you're unsure you can try watching AMVs and generate an Opinion about them like: Does this AMV looks like something new, or it was made several times before?
Q: Anything new or interesting we can expect to see from you sometime this year or early next year?
A: Since you asked it:
-There's a last video coming this year, expecting to finish even though 28 seconds are missing to the end but they will be the hardest moment of the video. A promo of the video has been made as I'll put it here soon
-With this video, a trilogy will start in the same style to Prelude to Death trilogy. If I choose the nick Tritio that means I can also use the alternative nicks, which will be the names of the next videos. I'll not switch nicks as I expected to do it before.
-I'll be returning to the studios, so I want to start next year as the new member of a studio. I'll be returning to YouTube also, as I want to study the community there.
-Again, crossovers will return. Different to last year, the crossover of this year includes different anime, starting from To Love Ru saga until Bleach
-As an advice from Yue, My participations at AMV Contest as contestant will be reduced next year
Q: Well thanks for joining me today Tritio. Any last minute comments or advice for the readers out there?
A: Keep enjoying the AMV Hobby, if you don't enjoy the AMV Hobby, then you can't expect to make a good video if there's not enough passion in it.
-When we started making AMVs nobody here had an idea of what the AMV edition was about, don't be afraid about receiving feedback, it will help you improve if you know what to do.