I tried using Ut video in the past, and it worked great on my netbook. Lagarith files that would only play frame by frame, when made with Ut would play flawlessly, but using rendered files was almost impossible due to "COM surrogate" errors. I just brought a Ut clip made at home (using a Ut clip made at WORK) to work and used it to render a Ut clip - and this is the result: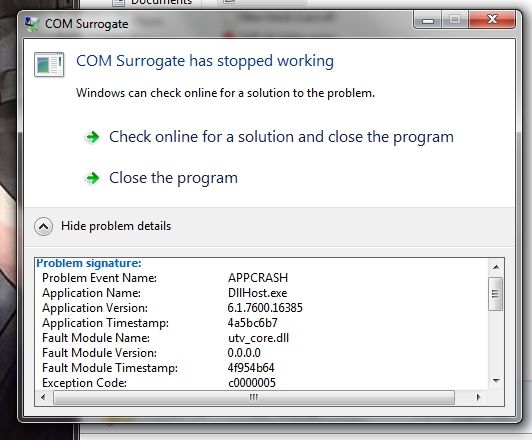 I recently moved to Sony Vegas Pro 11 so I thought to try again.
These are all newer machines, running Windows 7, 2 are 32 bit, one is 64. When rendering, I select the same 32/64 bit codec for Ut as the version of Vegas.
I use the K-Lite Codec pack and have the latest Ut pack installed.
I made files using Ut at home, and they play fine, work fine in Vegas. I bring them to work and they won't play on this machine - even trying to get a thumbnail by selecting them in an explorer window causes the COM surrogate error.
Both machines are running Sony Vegas Pro 11 (latest build - not that earlier ones worked better).
In the past I have tried switching to the CCCP codec pack (as suggested here) with no effect at all so don't bother.