The main contest of the ZonaAMV has finally begun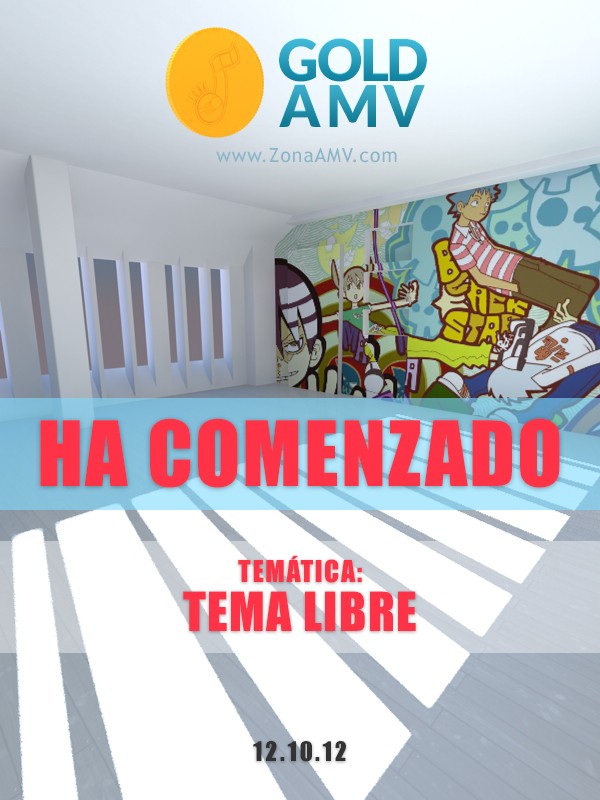 -You might need help from a translator since all the news related to this contest are only in Spanish, unless you're lucky enough to get me or madaraxD in the forum

The rules:
-The GoldAMV is based in a certain 'theme'. This year theme is free-style
-No MEPs or Collabs allowed
-The judges:
ZonaAMV's Admnistrator
Daaf
[madaraxD]
TritioAFB
Kuruta
-First and Second Place will be selected by the judges. The third place will be selected by the users of ZonaAMV
-Only Anime is allowed. No Games, Manga, Live Action. No hentai and no gore
-As long as the music is not offensive to any group, it will be ok
-Lenght of the video: No shorter than 1 minute and no longer than 5 minutes. Credits shouldn't be longer than 1 minute
-There's a logo for this contest, and it should appear in the video. The lack of the logo means disqualification.
The logo can be found here:
http://imageshack.us/a/img337/3017/logogoldamvza.png
-About the videos:
Accepted resolutions:
at least 640x480 and no more than 1920x1080.
Size of the file:
There'll be a restriction for the size in relation to the Time-Megabyte
This will be divided into high and low resolution. 720p for High resolution
· Low resolution: Allowed at maximun 20 Megabytes per minute of video
· High resolution: Allowed at maximun 40 Megabytes per minute of video
In case you want to extend a video with a higher size, a very well explained justification will be required
-Exclusivity rule present. So the video made for this contest is exclusive. Videos previously made are not allowed. And you can't show the video before the contest finish
-The Prizes:
First Place (Secret until october 28

)
Second Place (Secret until october 28

)
Third Place (Special Mention

)
*
I recommend you to read the rules of the GoldAMV

-You got 1 month to make the video. After the month is gone, we'll start the evaluation of the clip, and the voting for the 3rd place.
-Start of the GoldAMV: October 12, 2012
-Final Deadline: November 5 to 11, 2012
-Exhibition of the first and second place: November tweenty-six, 2012
-Voting for the third Place: November tweenty-six to thirty, 2012
-Exhibition of the third place, December 1, 2012
End of the GoldAMV
-Ways to send the videos:
You'll send the videos through a hosting service web (sendspace, mediafire, bayfile)
And we'll open the section so that you can put the video in it.
-You have to list all the animes and music used
-This rules may change depending of the circunstances
Original Rules:
http://www.zonaamv.com/t7280-4to-gamv-reglamento
Signing-in Thread:
http://www.zonaamv.com/t7279-4to-gamv-inscripciones
If you got questions, PM me
And that's all. The mighty battle between all the ZA community may start