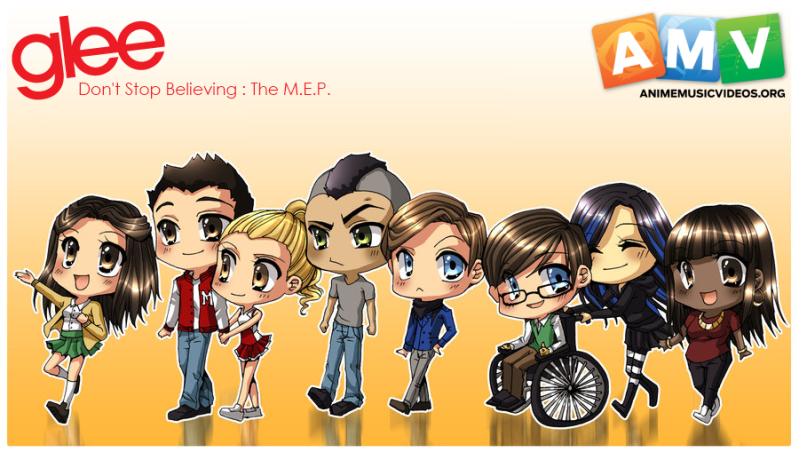 Hey everyone! Like I promised several months ago, I am indeed hosting another Glee MEP. Unlike the first one, I want to do a mixed version of it this time. I feel like it would be easier to coordinate and have a more "end goal".
--------------------
The Plan
The plan is simple. Glee is a very well acclaimed (and loved) American television program that a lot of users (myself included) really loved watching. They had great cover songs and a very interesting plot behind the story. I'd love to do a tribute MEP to them and their music.

--------
The Mix
I'd like to take
one
song from each album (to cover the entire seasons without going nuts on MEP length), and I've listed out my personal favorites, although feel free to offer substitutions. If you want a full list to go by what songs I own and are willing to mix together, the amazon links to the MP3s are available if your mind is rusty on the Glee collection. Plus, you can listen to a small snippet of them.
Mix Suggestions:
Don't Stop Believin' (Volume 1)
Bust a Move (Volume 1)
My Life Would Suck Without You (Volume 2)
Jump (Volume 2)
Safety Dance (Volume 3)
Bad Romance (Volume 3)
Teenage Dream (Volume 4)
Just The Way You Are (Volume 4)
Firework (Volume 5)
Rolling in the Deep (Volume 6)
Born This Way (Volume 6)
ABC (Volume 7)
Man in the Mirror (Volume 7)
Mix Requests:
Thriller - ShinAMV
Edge of Glory - SelfishPromise
---------------------
The Atmosphere
Each of their songs are all just a little different. From high energy pop songs to very mellow dramatic songs to even lovehurt painful songs. Each track should shine behind what the song stands for. As such, it will be a MEP with VERY mixed pace.
-----------------
Proposed Specs:
1280*720
23.976
Progressive
1.0 Pixel
Final Encodes: Lagarith / UT
---------------
Proposed Length:
I'm thinking of between 30 seconds to a minute for each "track". So a maximum of 8 minutes and a possible minimum of 4 minutes.
---------------
Anime:
720p is quickly becoming the new standard, and I'd love to do a nice high-quality MEP. As such, this would naturally kick out older anime and require mostly "newer" stuff, or stuff that has had blu-ray re-releases (such as CCS or Chobits). If you have an issue with this, please let me know.
---------------
This is still very much just an interest gauge and a "mix" suggestion thread. The actual MEP probably would not start until the second week of July, assuming I see some interest.
I look forward to hearing from you all. :3