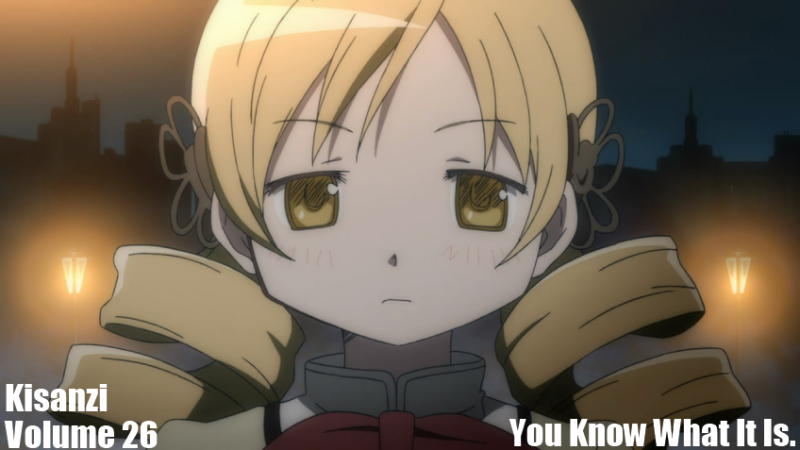 Disclaimer: These interviews are not associated with A-M-V.org or its administration. The Lip Flapper is the champion of the sun, but is not a master of karate or friendship for everyone.
_________

Description

Welcome to the Lip Flapper! Each week, we delve deep into the community and get a look into both individual members as well as group discussions on various issues that surround our hobby.
________



This Week in "The Lip Flapper"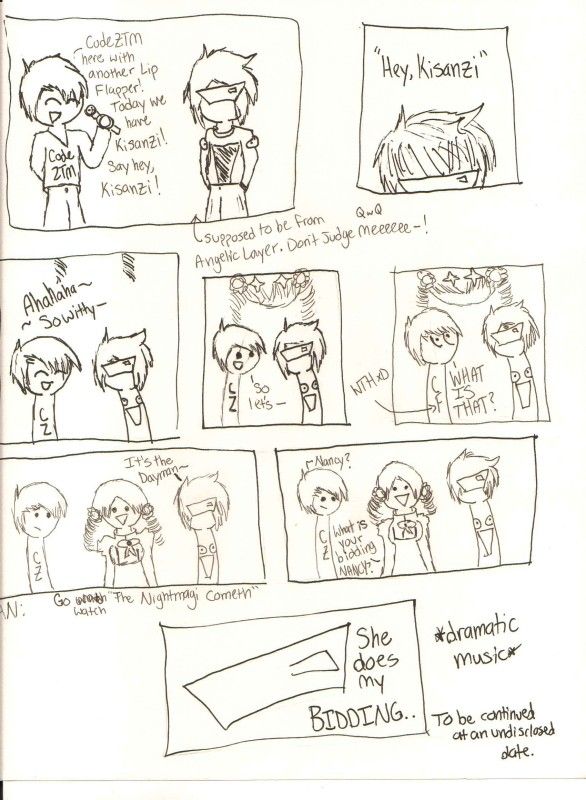 Comic courtesy of Summer, AKA GuntherAMVs.

________



Interview Spotlight



Kisanzi is a long time member of the site since 2004, and who has just came back (with a bang!) into the editing scene after a short hiatus. His latest works from Project OrgEditor shows that his skills haven't aged a bit! HIs latest work is The Nightmagi Cometh, but is also known for fantastic hits such as ]Lovestruck Radience, Bladebeat Graffiti and Condemned Memoir.

________



Interview
Q: Thanks for joining me today. Let's start things off and have you introduce yourself to the audience. Let us know a little bit about yourself.


Hey all, I'm Matt aka Kisanzi. I'm from Colorado and I still reside there with Radical_Yue. I've been into editing for almost 8 years and into anime even longer.
Q: Thanks for joining me today Kisanzi. So what got you involved in editing AMVs?


Well, we're just diving right into this aren't we? So way back in 2003 I was into watching anime but was completely unaware of anything AMV related. A couple of my friends started showing me some videos off of the Org every now and then. We watched a few here and there and soon it became more of a regular thing. Almost weekly we'd get together to hang out and they would put on a couple of new videos that they had found and wanted to show me. Some of our early favorites to watch were Leaves of Happaness, Odorikuruu, and Bleed the Sky to name a few. After watching AMVs for a few months we ended up watching JCD's video, Overdrive. This was the video that tipped my passion for the AMV hobby from wanting to watch, to wanting to create. Overdrive is still my #1 on my profile and will forever be since it was the trigger that made me want to make my own videos. After this epiphany I had my friend Valion help me figure out Premiere Pro 1.5 and from there I began editing. Two months later I had finished my first video and uploaded it here. I was very proud of it and thoroughly exploited the opinion exchange forum where I met a lot of people who helped me out and some of them later became friends that I still have today.

From there, I just continued to make videos as the ideas would pop into my head. Soon I began sending them to conventions that I attended to see them on the big screen with an audience. (Fun story, the first convention that my video played at was Kunicon in Denver, which had had a total con attendance of 475. The room where the contest was showed literally sat like 25 people, and I was totally there in this closet of a room admiring every video in the contest along with like 10 other people. So try going from that to the next contest I submitted to and attended which was Anime Expo, which sat an audience of like 6000 people. I swear I almost wanted to cry when I saw how amazing the AMV hobby could be when watching videos on the big screen with thousands of AMV fans. It still makes me sentimental to this day when an audience shows love for the hobby whether it be cheering at AMV contests or packing a room to capacity for AMV related panels at a convention.)

Anywho, from there I submitted around some more and came to know more people on the Org through the opinion exchange and being just randomly approached on AIM by other editors. As I kept making videos, more groundbreaking visual effects videos came out that inspired me in the direction of making visually stylized FX AMVs. I kept striving to find out how each editor made the effects in their vids and through that I came up with my own ideas. And that's how I got to this point.
Q: So what's your editing process? How do you get started, edit and then finish up an AMV?


My editing process is probably very similar to many others. I either see a show or hear a song and immediately want to find something to work with it. Most of my ideas start with the song which then I try to fit to an anime. I really was on the lookout for stuff that would match the story and characters of the shows that I had seen and liked. After a while I began developing an uncanny sense of being able to make song/anime connections for shows that I had never even seen yet, I just merely knew the general synopsis of the anime and went with that. This was true for both my Bladebeat Graffiti and Condemned Memoir. It's not that I was picking anime at random, but I already knew about these shows and wanted to see them, so much so that I was already picturing ideas for them. I then would watch the entire anime and once I knew I liked it enough to want to make the video then it was time to get to work. Another thing that sometimes gets me into some ideas is hearing songs and thinking of ways to embody the sounds with FX styles. I've gotten many ideas this way as well where I can just picture what I would want a general FX layout to look like in a video and then try to find an anime to fit into the idea.

After the concept, then it's just months of work. None of my videos until my most recent, took me less than a month of so to make. (And this was one month of editing at least a few hours every 3-4 days out of the week. ) But that's what FX work will do to you. It's all worth it in the end, but it's such a time sink that it can kill you're entire drive to edit sometimes. After finishing a video I used to be like "It's done. Get it on the Org and out of my sight." since the projects would take so long to create. But my philosophy on this has changed in my recent return to AMVs. I find that it is a great idea to sit on a finished video for at least a couple days before returning to it and making some final touches. It helps get you out of the "tunnel-vision mode" you slip into while making the video. This gives you the ability to see things that needed fixing that you may had missed during the long editing sessions that it took to initially make the video.

Beta testing is also very important. Show your videos to some other people before uploading it because it is a great way to catch mistakes and get perspective on the video as a whole. Make sure to choose people that you will benefit from their advice. Friends are great, but sometimes it's a good idea to ask for help from other editors on the Org that may have an eye for what you are trying to portray in your video. I personally always listen to everything my testers have to say and make a giant list of things to fix. Some editors nowadays seem to believe that when they get negative beta feedback, or are asked to make changes, that the person watching isn't getting the idea of the video or just plain doesn't see your concept for the video. This is never the case with me, I will change a large majority of anything that someone brings up if I can relate with what they tell me, because again, after working on something for weeks you tend to tunnel-vision your work and see it as something unchangeable and great, when in reality you need to step back and make some changes to make it even better. I've never had someone's advice change the artistic vision of my video, every change I agreed with have all been vast improvements on my ideas in the end. Try to never get hardheaded about your video. Always be open to take advice, because essentially if one person sees something they don't like, then it's likely many more people will agree with them once the video is released. So why not fix it before you have to deal with more feedback about it post-release?
Q: Your last video was published in 2008 (nearly 4 years ago!), yet you seem to be making a comeback with "The Quickening" and "Project OrgEditor". What brought about your return? Do you plan to stay around?


Yes, I am trying to make a comeback. After my last video in 2008 I began getting soul crushed by my own ideas. Every AMV concept I'd think of required months of work and was never simple. So I'd spend days prepping all the footage, get into the project file, and nothing would happen. My idea wouldn't work, or I couldn't find the motivation to even start the project. These convoluted concepts were combined with the decline of anime I enjoyed and created a nasty case of editor's block for me. About 2 years ago I spent months preparing dozens of PS2 games to make my first GMV, (since anime wasn't really clicking with me), and that project dead-ended as well. Not due to motivation factors, but the footage was so ugly and the workload was so immense that I couldn't finish the project even though I really wanted to in my heart.

So years passed, I lost touch with the hobby and played a lot of video games. I still watched some AMVs and helped run AMV panels at conventions, but I no longer made anything. That was until this year when I was at my last attempt of re-igniting the editing spark. I decided to put myself in a position where I had to edit videos by joining the Quickening and Project Orgeditor. Fortunately this was a success. The first round of Orgeditor really cleared my editing block. Making fun little videos that didn't tax my mind with elaborate FX or concepts was a great remedy. I didn't make anything I'd really scream and shout about for the most part, (except for my Orgeditor Round 2 video ), but it helped me clear my head and just get back to basics and have fun. So I will officially endorse The Quickening & Project Orgeditor as great remedies for editor's block as living proof myself.

As for sticking around, I thoroughly plan to get back into the swing of things here. It's a bit tough now because I now know very few of the people who are active on the Org now and feel like an outsider who has to break back into the community. But all those I met so far seem pretty cool, so that anxiety is slowly fading away.
Q: Well, it's good to have you back. What do you plan to work on first?


I actually just finished my first project back which was my Project Orgeditor Round 2 video, The Nightmagi Cometh. This vid was a fun way to return to the hobby. (Thanks again Code for coordinating Orgeditor otherwise that video never would have existed.) As for the future, I plan to shake this place back up. I want to see more Org originated FX videos that set the standard of the hobby like they did back in the day. We're about due for the next Euphoria, True Fiction, or Spoil that inspires editors to ramp up their tech game and initiates the next trend that everyone aspires to work up to. Not to say that I'm going to be the one to make that video, but I'm gonna try my hardest to either make videos that will help inspire whoever else to find the motivation and drive to make the next game-changing FX video. So I ask everyone on the Org, lets get back into the driver's seat and innovate this hobby into the future.
Q: You seem to do a lot of effects-heavy videos both in subtle and obvious ways. Is there a personal reason behind your preference for this style? At the same time, do you have any advice for those that might want to get into making effects videos? Maybe what the biggest "Dos" and "Do Nots" of this genre are?


I appreciate a wide variety of videos and styles, but my preference lies with stylized FX videos. Not just videos with a pile of FX on them, but ones that are creative, innovative, and give the footage their own special flare. There are so many videos from years ago that you could post one frame of and people could easily identify it from the stylization alone. Whereas now most videos are more raw footage and sync based, which isn't a bad thing, but the majority of them are so visually similar that its very easy to mistake that one video you may have liked for 3 completely different ones that used the same source. I pride myself on making videos that are distinguishable from the pack and I love to give the anime a spin of my very own, visually speaking. It doesn't always come out amazing, but it has my own personal touch to the footage that I can call my own.

As for advice; be tasteful, slick, and creative. Do what works with your idea, if that means only one or two things at a time, then so be it. Don't pile on FX until the footage is incomprehensible and be tasteful when selecting your FX palette for your specific theme/concept. Every transition doesn't have to be a blur zoom and every effect doesn't have to be in your face obvious. Invent your own styles, there are a heck of a lot more ways to transition and modify footage than what has been created so far. When making FX videos try to innovate on what's been done before. If you admire a video for the FX, then try to figure out a way to improve/personalize that style rather than flat out copying it.

Always get help from other FX editors, especially if it's something you're trying out for the first time. Other FX editors can give you great advice on how to make something look/work better without you hassling with it by yourself. An effect trend I'd like to stop seeing is to STOP USING PRESET/PREMADE FOOTAGE. There are a lot of great tutorials and templates out there that help you do many complicated FX, but they are merely tools to help you further your own ideas to create something unique to your personal creative needs. Don't just slap them on the video and begin taking credit for someone else's premade work.

P.S. Best simple advice I received from other FX editors:

"That 3D needs more depth."
"That custom background needs more texture."
"Those rotos need to be blended better."
Q: Sticking on the subject of effects, a lot of your videos (Bladebeat Graffiti comes to mind) seems to utilize really clean cut and well executed effects work. What software do you use, and where did you learn to accomplish all of that for those that might be interested in learning?


That specific video was made back in the day when I only used Premiere and Photoshop (No Riot Gear or AE on that one people). But nowadays it's all about After Effects for me and the many add-ons it has. After Effects can do pretty much everything outside of full on 3d CG animation. So if you want to stylize footage, AE is probably gonna be a good bet to do some of the really crazy stuff. After Effects also has unlimited amounts of plugins to use for more FX styles and such, my favorite being the Boris Continuum pack. But you can create almost any effect from scratch without the use of plug-ins so don't think that you can't do something just because you can get the software.

As for learning, back in the day I actually purchased and read a giant book on After Effects. It didn't teach me much, but it helped me streamline the process with handy tips and shortcuts. Otherwise there are great tutorials all over the internet to help someone accomplish a large array of FX. Again, tutorials are the instructions to create your own ideas, not the material to get slapped in the video itself please. Other than that, experimentation is key. Just trying out things will lead to discovery and sometimes yield results you never expected. I'd say that at least one effect in each of my videos came about because of a random setting tweak that I ended up keeping over what I was originally intending to do. Also, reach out to other editors. Ask what they used or tips, and some will even tell you exactly what to do. Regardless, you will get good instruction that will help you on your way.
Q: From what I hear from the Lip Flapper threads, Visualized Nightmare Studios and CDVV seem to be rivals. Care to elaborate a bit?


Well, years ago we had quite the rivalry which still runs lukewarm today. But I'm at a disadvantage since I'm pretty much the last active member of VNS who is still making videos. But yes, we have a friendly rivalry of seeing which studio could take over contests and produce better videos. We even had a studio vs. studio Iron Chef contest back in 2007 that ended in VNS victory. (Wooo!) But otherwise, both studios are composed of people who are omutual friends and a little friendly rivalry sometimes helps push people to go a little further with their ideas to get that last little bit of bragging rights. As for VNS though, I'm not going to give up on it. Some members may not return to the hobby but they'll always be a part of the studio, and they'll always be good friends. As for new people, I've been keeping that in mind since I came back to the Org. I may be doing some recruiting in the near future to return the studio to it's former glory....
Q: Radical_Yue mentioned in the main thread that you're a pretty good critic. Care to elaborate on your critiquing style and general advice you can offer to those that receive criticism?


Well, Radical_Yue and I are two pages from the same book as far as criticism is concerned. I always try to see a video's strong points and how it could be improved. No video is ever 100% perfect. I This outlook leads me to be a pretty brutal critic. I do like pointing out good points of a video to give credit where it is due, but at the same time, I will point out the aspects that didn't work as well down to the smallest details. Criticism is important for improvement. Not everyone is willing to go back and fix everything that might be wrong with their videos, but as long as they are aware of it for future projects then they can use that knowledge to improve. I myself love criticism that I can fix. (BTW, I hate the song/anime is NOT criticism.) But if someone says that an effect looks bad, a scene doesn't work, the concept is getting lost; then I will ask for an itemized list of things that I can do to help fix the video. Being open to criticism is a difficult quality to cope with, but you have to detach yourself enough from a project to see it as criticism and not as someone being mean or tearing apart your work. I'm telling people to keep their minds open to other people's perspectives and that just because criticism sounds bad, as long as the person is explaining their viewpoint, then roll just with the punches. Each of us might think so, but every video we each make isn't pure awesome to everyone else that may watch it.

Lastly on this subject is something I see happen more often these days; arguing with or retaliating against your beta tester's/viewer's opinions. Never retaliate against those who give you bad criticism or advise you on what may improve your video. My outlook is that they are taking the time to watch and leave feedback for you and they deserve your respect and appreciation, even if they don't like the video. If someone is telling you something in your video isn't good, then they are taking time out of their life to do so. Will you always agree with what someone doesn't like, NO. Just remember to be open minded to the fact that some people might not see the grand concept of your video that you see. With the millions of people out there watching AMVs everyday, there are a million different opinions of every video they watch. So be dignified and professional with your audience and their opinions of your work. If someone absolutely hates your video, thank them for watching and move on because that is just one person's opinion out of thousands that may see your video in the years to come.
Q: You've been a member of the community for a pretty long time. What are your personal feeling about the community today as opposed to when you first joined? Changes for the better/worse?


First off, I'm just thankful that we still have a community with all the situations over the years and other sites out there now. The people here still share a passion for the hobby and are willing to help others, which is great to see.

As for website differences, the Org seems a bit smaller and quieter than it used to be. This is evident in the forums, namely the AMV Announcements section. The fact that a lot of videos slide off the front page with only a couple responses and maybe 100-200 views is disheartening. Five years ago, almost any video got 100's of views in the first couple days and twice the responses than now. I'm also a bit sad that the opinion system seems to be almost catatonic. I used to always look forward to reading peoples in depth opinions of my and other's videos that I had interest in. But with the youtube trend, it seems that people have come to prefer the star rating and the quick comment system, which are nice but it I miss the opinion system and reading dozens of in depth reviews on my and other's videos from a variety of users. Gone are the days where videos get 100's of opinions and the top 10% was constantly a true race for AMV immortality.

As for the active users on the Org now, I know very few of them. (But that's to be expected since I've been out of the game so long, but there are still some familiar faces.) The community seems just as great and supportive as before, but it seems less approachable at the same time. I can't put my finger on it, but the forums and such seem a to have a more streamlined "check it and leave" vibe to it now as opposed to before. In the past when I first started, I had no intention of becoming wrapped up in the community, I just wanted a place to post videos and get advice. But soon enough I found myself drawn in by users dedicated to the hobby who invited me into the community as a whole, introduced me around, and then I was absorbed into the community. It was a great feeling being approached by editors I admired as the best on the Org, and having them pop up out of the blue offering their help with my AMVs and just chatting it up all night. Without even trying to, I found myself suddenly in contact with dozens of editors from all over the world on a regular basis and together we were constantly helping other new people get into the community as a whole. This soon became an enormous group of mutual friends that spanned multiple AMV studios, communities, and interests. Today, I see many great people online, but not many who are trying to reach out establish new connections or welcome new users, but this may be difficult with the smaller active community as it seems now. But this is just my opinion based off my personal experience from the past and present, and others situations probably greatly differ from my opinion.
Q: From what I've been told, you seem to have known/worked with a lot of fantastic early editors that first joined the site. Care to regale us with some interesting stories you might have about them or the community in general?


This would be far to long to answer for all the great stuff that I've experienced with other members in the community over the years and I don't know how many of these stories that the editors themselves want made public.
Q: Well thanks for joining me today Kisanzi, it's been a pleasure. Care to finish up the interview and have any general comments for editors in the world of AMV, or perhaps just words of wisdom for those in the hobby?


I'm instinctively competitive when it comes to any of my hobbies, so I'm gonna lay down a challenge to the AMV community.

Let's amp it up guys, let's bring the hobby even farther to new levels of awesomeness. I've seen some good stuff in my years away, but I'd like to see even more amazing stuff that ignites the fire of inspiration in the community. We need more videos that can grab the fanbase and blow their minds until they want to be AMV editors themselves. We needs more videos that other editors watch that make them want to push themselves to figure out new techniques and skills to ramp up their style. Let's see who can raise the bar for everyone else and innovate the hobby in new directions. I say this because speaking personally, nothing is more motivating and inspiring for me as an editor than to see an amazing video that captures my admiration and truly makes me appreciate the art of the hobby itself. These are all the same principals that made me want to start editing and push to improve as I got further into the hobby, so keep the trend alive. Gogogo!

______________________________

Next week on "The Lip Flapper"

Next week is none other than Judgeholden himself!