Joined: Sun Jan 02, 2011 1:33 pm
Status: awesome
Location: Ohio
Contact:
I need as many scenes people can think of that have the president of the united states in them. Or I need someone who can be Barack Obama.
Zanz Bonus Points Tally
8bit_samurai: 1, CodeZTM: 1, Eake4: 2, ibabrak: 5, Mirkosp: 4, tipsd9video: 1, uncreative: 1
---
WHAT IS PINK MAY NEVER DIE!
Joined: Mon Aug 09, 2004 12:29 am
Status: ....to completion
Location: On teh Z-drive, CornDog
Contact:
He's got a little more 5 o'clock shadow than Obama, but the mayor in Tiger & Bunny could work.
---
Joined: Sat Dec 22, 2012 2:58 am
yea it kinda looks like him. maybe longer face and hit us with his smile.^^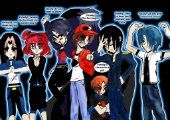 ---
---
Who is online
Users browsing this forum: No registered users and 3 guests