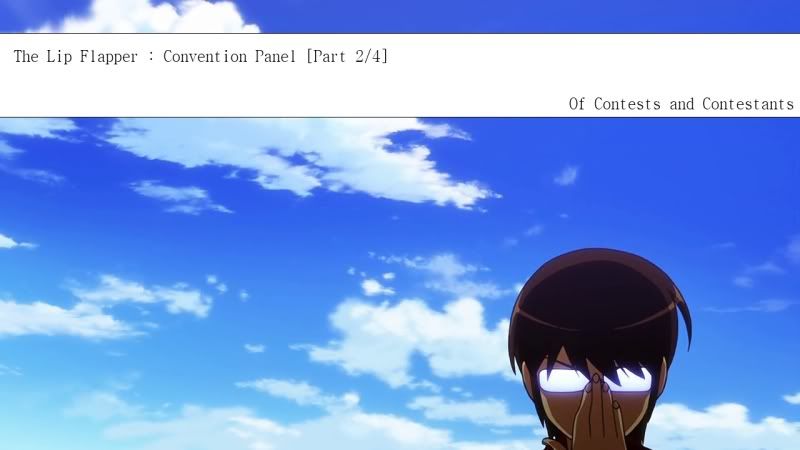 Disclaimer: These interviews are not associated with a-m-v.org, and do not reflect the opinions of its administration.
_________
Description
Welcome to the Lip Flapper! Each week, we delve deep into the community and get a good look into both individual members as well as group discussions on various issues that surround our hobby.
_________
This Week in "The Lip Flapper"
This week is all about AMV contests and conventions! We talk with contest and convention coordinators, people who have been to conventions, those that judge AMV contests, and naturally just everything about them!
We have a 4 part series, finished up with an AMV Review on Friday with an action video that doesn't suck!
_________
The Panel
As an AMV Contest participant, what's something that you believe could improve AMV Contests, both on and off the internet?

On a more controversial note, what are your feelings on "contest trolling", or the act of one video being entered into all American contests (and winning them)?
____________
AngelDragoon wrote:As an AMV Contest participant, what's something that you believe could improve AMV Contests, both on and off the internet?

Though for the most part many contests do a good job at explaining contest rules, I think some forget that many who want to compete are still new at it. I know when I was just starting out I had no idea there were different types of .avi files, let alone what most contests preferred. (No, seriously. I barely even knew how to work a computer other than the internet and word program before 2007). Contests don't need to explain how to make videos into specific files, but they should spell out everything they want from a video to avoid any issues ahead of time. Granted, many people still might go, 'Lul, whut? I'll just send it in .wmv! ', but others will actually read it and want to learn. Another aspect I'd like to see improved is the video confirmation. We all know how the postal service can be; a quick email saying my video got there in one piece would be nice, especially before the deadline.

On a more controversial note, what are your feelings on "contest trolling", or the act of one video being entered into all American contests (and winning them)?

If the video is good enough to win that many awards, then it deserves it. Every video contest is not run by the same people, nor is the audience exactly the same each time. I think the biggest controversy that stems from this issue comes from people not being able to win 'fairly', or feel that they don't have a chance at winning because the video that was 'trolling' has quite a few awards. The thing is, everyone's video does have a chance at winning at the start of every contest; the judges/audience just happened to like the other one more at that particular event. Granted, seeing the same video at several different contests can get boring and/or annoying for a viewer, but at that point it's up to the editor to say, 'Maybe I should submit something
kireblue wrote:Since every AMV contest is different, its hard to say how to generally improve them, but I would like it if more contest used resources like twitter and facebook. I'm not able to attend some of the contests that I submit to, so it would be awesome if I could read the results on twitter right away instead f sometimes waiting almost a week for an official update to the website.

In terms of the trolling question, I understand that people send their AMVs to many different contests in order to get it noticed, but once your video has won a cretin number of contests, you should retire it. Having a video that has won ten different awards from ten different conventions that you've never even been to is a bit much. Personally, I retire a video immediately after it has won 1st place at any convention. Of course, this is my own personal guideline, and I don't expect anyone else to be as strict (nor would I want them to be since I actually run various AMV events and contests). I just think that a line needs to be drawn somewhere between the two extremes.
GloryQuestor wrote:Speaking from both sides of the fence, the growing separation of videos from the traditional category setup is the biggest issue with viewing a contest. There are many videos these days that really don't fit any one type of category, which leads the video to feel miscategorized in the category it was selected for. There are many of us coordinators working towards changing the basic contest format so that audiences can get a better focus on the arrangement of videos and make AMV contest viewing a more enjoyable experience.

- On a more controversial note, what are your feelings on "contest trolling", or the act of one video being entered into all American contests (and winning them)?

When it comes to recycling videos in various contests, I feel there is no controversy or issue there. Conventions are all over the United States, so trolling a video in that context actually gets it to more big screens throughout the country and to more people who would like to view that video in a theater environment rather than at home. In the end, contests are really all about giving what the audiences want. If the audience for a convention doesn't want to see an AMV contest, then there will be no contest held at the convention. In that respect, since a winning video would end up being an entertaining experience for its audience, "trolling" that video to conventions is something that convention organizers would actually want to see.
diegao94 wrote:I think that it depends on the contests. For those which don't have it, a local system of upload in the contest's site would be a nice thing, because it's more practical and faster than the upload in other file sharing sites like Mediafire. In general, I think that, for an AMV contest, the most important thing is the clarity and the completeness of the rules and the presence of some respectable prizes.

I think that if a video manages to win all the contests in which is being entered, it's probably a great one. But I've honestly never heard about a video which has succeeded in a similar goal, I'm not really informed about the American Contests and the "contest trolling" in general..
ngsilver wrote:Probably the single thing that can improve a contest is if the coordinator actually understands the reasons behind each and every rule they have rather then copying their rules from another contest and running with it. Rules have a reason for existing, but if you don't know why your enforcing a rule then why are you even using it?

Personally, if it's within the rules for a contest then by all means troll if you want to do that. For me, sending videos to a contest is more about getting my videos out to be seen then to really win awards. True, I enjoy competition but the end result for me is that my video was seen by someone not if it wins or not. And really, if a contest allows trolling what is wrong with actually doing it then? There was no rule in place to stop that, so is it really wrong then? Perhaps the editor is doing it just to win the awards, then there is probably something wrong with that editor POV towards editing and perhaps they should re-evaluate their reasons for being in this hobby, but if the contest allowed it then there is really nothing there to stop them.
Nya-Chan Production wrote:I can't think of anything that can be said about "all" the contest in general. Give it enough time and it'll be okay? ><
And about this [Contest Trolling] - I don't really care. If you want it that way, so be it. Some cons protect themselves, but in my opinion if it's not forbidden, it should be okay - it might show the video to few more people who hadn't seen it 30 times already after all :3
irriadin wrote:There is certainly room for improvement in many contests being run. Ensuring your pre-screeners are educated or informed about AMV's is important in picking finalists and weeding out lesser videos. Some contests have had trouble with videos being made "finalists" that were largely unedited but using relatively obscure source material.

Apart from that, more transparency regarding rules and contest deadlines would never hurt.

Ah, the ever controversial "contest trolling" question. First I'll talk about my own personal policy. I submit only to conventions that I would ever conceivably go to, (with exceptions made for contests offering Asuka trophies... >_>) so I largely stick to my geographical area. I totally get why an editor would submit to every convention under the sun; more exposure, more awards, more fans, who wouldn't want that? And if you're good enough to beat everyone else, then why shouldn't you? Still, I find nothing wrong with certain conventions maintaining a "no-trolling" policy. It maintains some of the excitement over what you're going to see. Particularly for huge conventions like Otakon (which maintains a no-trolling policy) you're likely to see a number of video premieres that haven't been shown publicly anywhere.

Is there a happy medium? I think so. Perhaps another category can be added to contests, a sort of "hall of fame". It would be exempt from contest voting, but would still be shown and grant the editor exposure.
BasharOfTheAges wrote:Read and understand your own rules. Get someone else to read them. Realize when they're flawed and FIX them so they're not. Apply them equally and fairly. If you can do that, then contestants can respect your contest.

On a more controversial note, what are your feelings on "contest trolling", or the act of one video being entered into all American contests (and winning them)?

As someone who runs a contest concerned more with having good videos to entertain the audience than affirmative action for local editors, I can tolerate a degree of it. Hell, I make one video a year and submit it to most of the largest spring/summer cons myself, but after a few months I have the personal restraint to know when to say when. I think we need the topic to come up every so often, however, so newer editors get to learn that unique form of personal restraint that only public shaming and a healthy dose of guilt can bring.
____
Monthly Calendar
February 6: xDreww InterviewFebruary 13: Fanservice PanelFebruary 20: Magnus Interview
February 27: Convention/Contest Panel
____
Past Interviews/Discussions
Shin-AMV
Pwolf
Scintilla
Lip Flap
AimoAio
Youtube Panel + Bonus BakaViking Interview
Kosmit Interview
Youtube Panel Pt 2
xDreww
Fanservice Panel
Magnus
Convention Panel : Judges
____
Next Time on "The Lip Flapper"
Join me tomorrow evening when I sit down and talk some more about conventions!