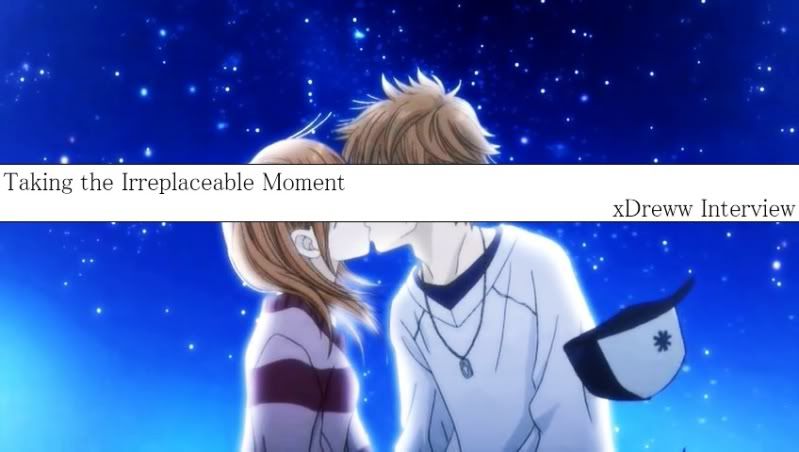 Disclaimer: These interviews are not associated with a-m-v.org, and do not reflect the opinions of its administration.
_________
Description
Welcome to the Lip Flapper! Each week, we delve deep into the community and get a good look into both individual members as well as group discussions on various issues that surround our hobby.
_________
This Week in "The Lip Flapper"
It's romance month here at "The Lip Flapper"! For the month of February, we're hitting up romance editors (new and old), as well as romance-related panels!
This week, we talk with newcomer
xDreww
, who focuses on utilization of visually appealing effects and romantic scenery.
_________
The Interview
Q: Thank you for taking the time to answer my questions. To start us off, why don't you introduce yourself to everyone, and tell us a little about yourself?
Well my name is Andrew, most people call me Dreww. I'm not so big on introductions and talking about myself haha. I'm just a normal guy who lives in the state of New York.
____
Q: Well thank you very much for joining me today xDreww, it's a real pleasure. Allow me to start off by asking how you got involved in editing AMVs?
It's a real honor and pleasure for you to have me here. I gotta say I was pretty flattered and shocked that you wanted to interview me haha. Never really expected it. So thank you very much for having me.
So..I started editing back around.. October 2009 ish. My first edit was actually a Kingdom Hearts GMV I made for a special someone that I was with at the time. It was our 4th month anniversary. Before I got around into completing the video, I was watching kingdom Heart Videos on youtube for about.. a little less then six months or so? I can't remember haha. But uh.. I've been watching the popular Kh edits likst pwillierd, avidity, I met other KH editors such as gotenks, joodile, their whole friend crew back in 2010 I think? I think I was still studing Sony vegas for awhile and watching videos out on youtube. Then pretty quickly my ex girlfriend really got me into watching more animes such like toradora, clannad ect ect. I feel in love with Japanese anime really quickly.
Before I made my first AMV which was a clannad video called "I miss you" Simple I know haha. You can watch it here.
http://www.youtube.com/watch?v=LW2YT0_DN-Q
I studied Sony vegas for a very long time! I'm talking about experimenting, watching a lot of AMVS on youtube. I also quickly feel in love with AMVs because I saw another world that wasn't JUST in an anime series. It was like.. you're creating something thats in your head! Imagining, visualizing, something that just came into your mind, you know? I really really enjoyed the thought of that, and found editing to be really fun. After that I stopped editing for along time, then came back later in 2010. I also want to add I get inspired a lot haha. Everytime I here a good song I like, I have an AMV going inside my head, I know I'm a loser :p
____
Q: As you might know it's "Romance" month for "The Lip Flapper", and this month is all about romance! As an consistently great editor in the field, how about you tell us (in your opinion) what a "good" romance AMV should have in it?
haha I'm really flattered again for you to say that. Thank you so much.
Alright well...if you want to know what makes a good romance AMV, watch Zetzus videos! haha
Nah okay..reason why I said that it's because he was one of my first inspirations when I started watching AMVS. His videos are really to the point when showing emotions you know? Godo romance AMV in my opinion, well first needs to have the right concept to flow along with the song right? The right emotion, the right scene selections for showing the right feeling that the editor is trying to express. When you're watching a romance video..you want to actually FEEL whats going on. Feel the anime with the song, or.. feel the song with the anime. This is what I learn the past year. A bit hard to explain though haha. Other editors that inspired me a lot were, chiikaboom, WhispersReloaded.
____
Q: On the flip-side, how about you explain to us (in your opinion) what a "bad" romance AMV has in it?
Pretty much the opposite on what I said haha. Anything with sort of random scenes, a romance video that only has less then 50% romance I guess. I wouldn't condiser to call it "bad" though. I don't like calling to much AMVS bad, or horrible. It's because we all started there at the beginning, learning and such. I don't like when people say that about videos.
____
Q: less than 50% romance? So videos that lack focus?
If your trying to put out a really emotional romance video, and you don't really see any romance, how can it consider a romance? Unless were talking about Drama.
____
Q: What would you say would be your "favorite" Romance AMV? Feel free to link/describe more than one if necessary.
Uh.. Lets see..my favorite Romance AMVs..might be kind of tough to name all of them, just going to name a few.
"Fading" - KahloReiva007
http://www.youtube.com/watch?v=0_eu9PIS5qY
(What inspired me to make more instrumental drama videos. Also he was a huge inspiration to me back when I started editing.)
"Our Farewell" - ZetZu
http://www.youtube.com/watch?v=UYyRHoLf_fQ
(One of the first Bokura Ga Ita videos that made me really want to watch the anime series.)
"Lovestruck Melody" - ZetZu & Chiiisus
http://www.youtube.com/watch?v=JDu1-Q0JIrE
(love love love this video. This video made me experiment more with coloring , and color correction on my AMVs.)
"We're Empty" - Laerium
http://www.youtube.com/watch?v=8tvtB9lT-zQ
(Don't know what to say I just love and adore this video a lot.)
"Let Us Falling" - Luciole
http://www.youtube.com/watch?v=OfL8M32f6HU
(fell in love with this clannad AMV. Don't know how to explain it. One of the heavy clannd videos in my opinion.)
"Enchanted"
http://www.youtube.com/watch?v=mI1sbVTHcgw
(One of the better Kimi ni Todoke videos. Gotta say Aimo has improved greatly.)
Know what I notice? Most of these editors are AuN members. haha No wonder AuN has been my favorite studio scene god knows how long.
____
Q: So you've got a AuN obsession eh? It is quite addicting. XD What makes AuN so successful in romance?
hahaa yeah I guess. AuN has big a HUGE inspiration to me the past two years. hmm..I can't really speak in behav of AuN, but my opinion I fell in love with KainxSpirts, Zetzu, niwas style, and how they edit. Some of the new members as well, like Chiiisus , and Laerium. Most of them edit a lot of drama/romance type videos. Which is my favorite. One of the main reasons why I loved the group so much. I tried to join them over a year back I think? But got denied xD. Niwa actually gave me something to really think about though. To find myself. As in find my editing style, which my style was all over the place back then..haha So happened for a reason, I still really appreciate all the advice and help he gave me. Really helped me a lot with improvement. One of the best teachers!
____
Q: You've done of a lot of work with Bokura Ga Ita. What is it about this anime that make you enjoy working with it?
I love the whole plot of the story. When I first watched the series, I quickly fell in love with it. Thing Is I feel for Yano, and what he was going though. I like how the anime is detailed explaining each others emotions, by explaining all sorts of things. Their past, relationship, love, so much emotion. Actually made me quite mad watching it sometimes because all the misunderstandings and such. Scene I'm such an emotional softy in real life and I enjoy these things, I wanted to edit tot he anime on my own. I've seen so many wonderful AMVS with it, I wanted to try out for myself. Wanted to tell my own story about the drama and love between the two, I actually made quite a few vent videos to it haha.
____
Q: So the touching drama can fit more than one romantic situation? How can you tell so many different stories with the same two characters?
oh I didn't mean to say it like that. It all depends and how other people view things. Good question though..I guess it just depends on the song and the lyrics. OR If it's an instrumental song, you can just imagine your own story. Honestly I think I'm pretty plain and not so original so I can't really tell you about creative concepts haha. My visualizing for videos are getting greater though.
____
Q: One of my favorite works of yours was Irreplaceable and Selfish Desire, which both took the works of Bokura Ga Ita, but also took them in different directions. While they're works that you admitting taking a small amount of time on, they're very solidly put together. How'd you go about doing this?
haha thanks.
Well the video Irreplaceable, was actually just a birthday video for a good friend of mines. Though I wanted to make it really meaningful and explain good emotion of course. So I put in a lot of my own feelings to it because it was made for one of my best friends.
As for Selfish desire..that video was actually a vent haha. I was feeling a bit bleh, wanted to just edit something sad I guess. I finished it in about a day and a half? For a short quick vent video, that's one of the videos I actually enjoyed and overall liked how it turned out overall. I think if you edit your feelings, and feel inspired by something, the overall completion will come out great.
____
Q: Outside of the world of Romance, you also do a lot of work with Trance. How is this genre of editing different, and how exactly do you get started with this sort of work?
Well trance AMVs, can be different concept wise, then romance/drama. The reason edit a lot of trance, mainly because trance is just about my favorite genre of music to listen to. I'm talking about good trance, ocean Lab, Armin Van Burren, ATB, Tiesto , Above and beyond , Many classic hits and more. Thing about trance, there's a lot emotion in it. It's like falling into an imaginary world, that's unexplainable. Vocal trance mostly as well. It's just so much about trance that you can feel. Me as an emotional editor I really enjoy putting my own emotions in trance videos. I should say, yes. Nostromo Was one of my inspirations when editing to trance.
____
Q: So you take your own emotions and put them into AMVs? How do you do this?
Just by feeling that emotion I guess. Like for my vent edits, just find a song that describes my mood, and just find the right series and put it together really. Sad, angry, all that. haha
____
Q: So you really enjoyed creating your own world through AMVs? Is this how a lot of your videos get started?
Hmm..something like that haha. I get inspired a lot when I watch an anime that I really enjoy. That or I get inspired when I here a certain song. I tend to visualize a story when I here a song I edit to. After I put everything down, and edit most of the time I get more ideas as I edit the video.
____
Q; Sorry, I have to ask the question. It's all in good humor. XD Do you wanna be the guy Nostromo?
hahaha glad you asked that question. As I was saying, Nostormo was one of my inspirations when editing trance videos. I digged his style after he started releasing his 60fps videos. After releasing a few trance videos, I did get comments such as "nostormo type video" Next trance video.. "I WANNA BE NOSTORMO" type comments. I do admit at the start I'm like..um..I don't want to be this guy and I used to get upset. After creating my latest trance videos, those comments didn't bother me anymore. Reason being it's because yes, obviously I have a similar style when I edit trance, BUT I feel that I put in way more emotion then he does. I feel that I match scenes with more feeling then him. I do not try to mimic his style, I edit with my own style, pace, and feeling. Just because I edit to the same genre, shouldn't mean I try to be the man that started it all with trance AMVs. So when I here that comment I just laugh. Honestly I grew tired of his style.
____
Q: You've done a lot of romantic/trance MEPs over the past year. What makes you want to do this sort of medium? Is it easier/harder working with multiple people?
I have? haha I didn't even notice myself. Uh..well I guess it's because I love the two genres. About working work people it depends. I've been in random meps where it's kind of unorganized..haha. Though this is the thing about me and MEPs. I participate in a lot of MEPs because I love working with other people. It makes editing much much more fun. Working with other great editors and coming up with ideas, learning, it just brings a little more joy when editing you know? I've met people that don't like to do MEPs at all..or collabs, only solo editors. I understand that, but it's just feels lonely and not fun at times being alone all the time.
____
Q: Any tips for editors to make their MEPs as fun as you describe them?

To not take it so seriously..This hobby is for fun, no need for all this serious business. Yes I understand if you're hosting a MEP for a contest, you need to be serious with most things, to make it come out good. I just experienced many people who take editing a bit to seriously.. replacing one person without telling them all because the track didn't flow well with another, getting mad for something, drama, ect ect. I mean this is all for fun. I usually participate in MEPs with people that I know, I don't like joining random MEPS. When I host a MEP , most of the editors no each other, I don't think I take it so seriously as some people do with deadlines and betas and such. I trust that the editors I choose will turn in a good track.
I do plan to start my own MEP group later on in the year. Not going to give to much info, but expect one :p
____
Q: You've done a lot of work with a lot of different groups [DoS and EBullientDesigns]. What have you taken away from each of these groups, and would you recommend that working with different groups is beneficial?
Well I've was in DoS(Dream On Studios) for more then a year, been a nice ride working and making the studio grow into a family. Though it quickly changed and fell apart. Many reasons. As for EbullientDesigns, my new studio that I'm in, I'm quite happy being part of this group. Small, but really friendly and outgoing. I've known Chianed(e)Studios for a very long time, about the first year I started editing, her as the leader I came to her for a possible invite, and worked out fine in the end. I'm learning SOO much from her, and Overture. Which Overture is possibly my favorite editor. His imagination and creativity is just..mind blowing. Hes my teacher at the moment, learning a lot and enjoying it. I'm really happy, can't wait to see all of us grow more.
____
Q: Something that you're known to do is to "re-color" anime with effects to fit the needs of the music/atmosphere. Can you explain a little bit how you decide on what colors go best with each melodies? Perhaps some advice for those that might be interested in doing something like this?
Well I just started adding color to my videos not to long ago. Started playing around with coloring with "irreplaceable" fallowing up with my trance AMV "Always Looking Back" The whole re-coloring for videos started after watching "Lovestruck Melody" - ZetZu & Chiiisus.
I admired the whole color correction for awhile back then..just never really tried, but that just made me think deeply on how to set a deeper mood with coloring. So that actually made editing more fun to me as well, while experimenting this. As for deciding what color to add on videos..basically it's just about feeling what fits right I guess? haha. Irreplaceable had a nice light blue tone, because I wanted to give this BGI edit a bit more emotion with color. I didn't want to copy Zetzus green color tune, so I picked my favorite color which is blue. I've experiment with colors A LOT. LOL. I played with overlays and other effects and such and eventually got what I wanted. Just felt right to me. Other videos like "Always looking back" the color theme was inspired by the video,
"The Trance Condition" By Padre.
http://amvnews.ru/index.php?go=Files&in=view&id=3141
Loved the coloring a lot. I actually asked him on what he did to get that color. It's just a 4 gradient color effect on AE. So I wanted to try that out for this video and thats how I got the blue,purplish,green
Could look at it here.
http://amvnews.ru/index.php?go=Files&in=view&id=3547
I pretty much use a color that can fit the "mood" or "theme" best, in my opinion. Lately I've been messing around with a yellowtint color curve effect. My advice for people is just try to choose the right color to fit your theme or mood. Thats pretty simple though, I'm pretty lame when giving advices like this xD It all depends on the editor I guess.
____
Q: Is there anything you'd like to say to the a-m-v.org community on the whole, or perhaps just something you'd like to say in general for the hobby?
Umm..Well I don't really participate in the org at all..I'm not really active on the forums at all! haha Chained(E)Studios hae told me I should, I did try for a few days..but I got bored haha. I'm not much of a forum person, but I try. I stopped going on the org for awhile, due to issues I had with some people and how they respond to videos. I thought to myself that majority of the org are a bunch of serious AMV editors or care so much about the littiest things, and editing. It pissed me off. I seen a lot of comments that were not necessary. Honestly I just post my AMVs on the announcements and thats it. I don't really care for anything else. I am going to try to be a bit more active though I don't really think anybody really would pay mind to me. Heck I don't even think that many would even have the time to read this interview scene I'm not really known on this site.
I do want to say without the a-m-v.org community and the site itself, it would be much harder to get help overall from all sorts of things. I do think that it can be a fun place, and I have seen some change into the community, which is pretty nice. I just wish it was much more active, as in more people would register and take of the community.
____
Q: So you'd be more willing to participate if it were more active? Are there any other barriers that might be in place that's making it harder to be more involved here?
hmm..not really. I mean, the past week, I've only sign on the org to check my info, and for this interview. I haven't really touch the forums haha. Like I said I'm not munch of a forum person. If there was an a-m-v.org chat room with the whole community can just hop right in and start chatting, that would be really interesting and fun. Easier to be social with the community that way. Should have like a direct link on the homepage or something..like an IRC channel or whatever you call it haha. So there's really nothing blocking me from getting involved here, it's just I'm not a forum person, and I don't really know anyone on this site. Which is why I'll be surprised if anyone actually reads this interview haha.
____
Q: Thank you again for taking the time to answer my questions. To end things off, is there anything you'd like to say to newcomers that might be visiting the site for the first time? Some advice or words of wisdom?
If you enjoy Anime. If you enjoy editing AMVS. Keep it up. It's a pretty fun hobby to have and explore. If you're inspired by something, GO FOR IT. Don't stop and aim for what you imagine. Feel your video, feel the anime, with the song. Then, CREATE IT. Imagine it, feel it, create it.
Sounds cheesy I know, because seems like a rip off from AuNs slogan. It was a huge inspiration though. Just those little words make you think. So find yourself as you keep thriving for what you want. You'll get there. Same goes for me, I'm still finding myself haha.
________________
After Thoughts
xDreww is a new editor that I like to follow. I know it's cliche, but really, he's like a mini-romantic-focused-nostromo. Not exactly like the original, but with a unique flair that I enjoy. His Bokura-Ga-Ita videos are ones that I also really enjoy. He tends to lay on the emotional layers REALLY thickly, but still enjoyable anyway.
____
Next Time on "The Lip Flapper"
Join us next week as we take on a panel of editors to discuss "Fanservice" and all of its many implications.
____
Monthly Calendar
February 6: xDreww Interview
February 13: Fanservice Panel
February 20: Magnus Interview
February 27: ????
____
Past Interviews/Discussions
Shin-AMV
Pwolf
Scintilla
Lip Flap
AimoAio
Youtube Panel + Bonus BakaViking Interview
Kosmit Interview
Youtube Panel Pt 2