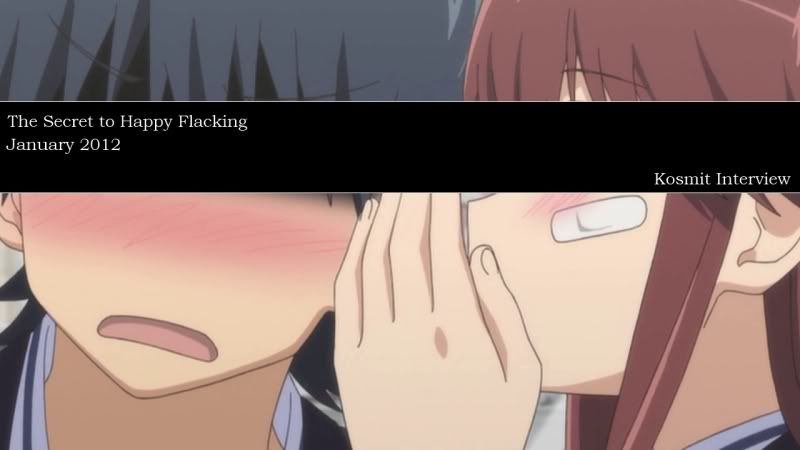 Disclaimer: These interviews are not associated with a-m-v.org, and do not reflect the opinions of its administration.

Description
Welcome to the Lip Flapper! Each week, we delve deep into the community and get a good look into both individual members as well as group discussions on various issues that surround our hobby.
_________
This Week in "The Lip Flapper"
This week, I'm happy to announce that we have Kosmit on board to talk about flacking and being happy! You can also check out our bonus interview in the Volume Seven Bonus.
_________
The Interview
Q: First of all, let me say a big thank you for taking the time to answer all my questions. Let's start off by introducing yourself, and letting us know a little about who you are.
I'm Kosmit, but my real name's Jan, or Yan as you English speakers would pronounce it. Editing became a hobby of mine only about two years ago. My preferred AMV genres are comedy/fun, though I do try different things from time to time.
___
Q: Well thank you for joining me today Kosmit. So what got you involved in editing AMVs, and how did you manage to find your way to a-m-v.org?
I found the org sort of by accident. A couple of years ago, back in 2005, a friend of mine showed me AMV Hell 3 and 0, which I became a huge fan of. I only found out about the org from the amvhell website when AMV Hell Divided By 0 was being created. I watched some of the VCA winners out of curiosity and obviously liked what I saw. And so I am here, which is probably the only good thing to ever come from Hell /0. Though that's also debatable considering my AMVs
As to how I started editing, that's a long story. Not many of you know this, but I also write articles and reviews for a small polish m&a magazine. Some time ago I wrote an interview with one of the more famous polish editors, AceMan. After a chat with him, I decided to attend one of the local cons. That's where I got to meet Arczi, Crossfade, Milk or Life!, Schen and other editors from my country. Thanks to that I got involved in making Why So Serious? II MEP, which is the polish equivalent of AMV Hell. After that, creating my own, full AMVs seemed like a logical step up.
___
Q: What's your process for editing? What's it like in the beginning/middle/end of the editing, and do you do anything special while you edit?
My editing process is nothing special. When I get an idea for an AMV I really like, it tends to dwell in my head for several weeks until I have a more or less clear image of what I want to do. Then I just sit down, write down the lyrics/dialogues if there are any, and start selecting scenes accordingly – which takes me a lot of time by the way. After that, the only thing left is to edit the damn thing. That's all there is to it, really.
___
Q: So you don't even edit the video until you've gotten scenes selected for each of the lyrics/dialogs? Have you tried other ways, or is this a very useful means of pre-editing that saves time down the line?
When I edit, I don't like searching for the scenes I need, so I simply do it beforehand. So yes, I only start editing when I have all the scenes needed for the AMV plus some spare/possibly useful ones. All the scenes are in clips no longer than 30-40 seconds and have file names that usually include the location where the scene takes place, characters involved and what they are doing. Preparing all that takes quite a lot of time, but for me it's worth it. Despite having like ~500 clips prepared for editing I know precisely which files contain what I need. Of course it still happens occasionally that I need to search for that one more scene that I suddenly had a vision for/somehow don't have/haven't thought of using earlier, but since I make short notes of what is in each episode of an anime I'm using, those additional searches are quick and painless. Now probably some people are going "WTF? Why would you do so much unnecessary stuff?" It's just what I've gradually come to after editing several AMVs and what works best for me. What I can I say, I like to have my stuff well organised. Which is kind of funny considering how messy I can be in other areas
___
Q: As a "newer" editor (you began in 2010), you have extremely polished and popular works. Any secrets that you might want to share with the rest of us? Perhaps what made you get such a strong start?
I think I simply came to the right place from the very beginning. There are some very helpful guides on this site and I read through them to find what I need. The amount of technical stuff to learn seemed intimidating at first, but it turned out to be pretty easy once I understood the basics.
As to why my works are polished… Hmm… I guess it's a matter of personality. Some people can edit really fast and make great stuff even under huge time constraints, while I need to take my time carefully choosing scenes and endlessly tweaking them to my liking. Which is why I'm not very good at making IC videos.
___
Q: So your strength lies within long planning periods? Is there anything other than things already mentioned that can help editors with this kind of process?

I wouldn't neccessarily call them long. It's not like I sit many hours and plan my AMV, ideas gradually evolve in my head over time. Anyway, having stuff planned out can be both a strength and a weakness. It happened to me in several cases that what I imagined didn't work at all or the scenes I planned to use looked different from what my memory told me. This most recently happened with Cunning Runt - I almost ditched that AMV out of frustration because nothing went according to plan. I somehow motivated myself to finish it, but it loooks totally different from what I wanted to achieve at the very beginning. So yeah, plans can be good, but don't be afraid to change them.
___
Q: So you're a member of AMP studios? How's it working out with that group of editors? Are there any goals that the studio wants to meet? What is AMP's editing philosophy?
AMP is more like a bunch of friends than an actual studio. We chat online quite often, help each other with AMVs and generally have fun. As far as plans go, we'd like to make a MEP together, but I honestly have no idea when that will happen.
___
Q: Last year, you made the extremely hilarious/popular "The Darkest of Places", which was possibly one of the most hilarious AMVS of 2010. What made you want to attempt this video, and how did this combination come to light?
Personally, I blame Crossfade. When randomly browsing YT I stumbled upon the song "Do You Take It?" by The Wet Spots and sent it to him as I thought it was hilarious. His reply: you should totally make an AMV with it. At first I didn't even consider it a possibility, but then one of the new episodes of Bakemonogatari got released. While I was watching that, something just clicked in my head and images started falling into place. Bakemonogatari , with all of its innuendo heavy dialogues, simply felt like a perfect fit for that song. Thus "The Darkest of Places" was born.
___
Q: The Darkest of Places also utilized a lot of cute user-created images (such as the monocle or top hat). How'd you manage to get such high quality images to look both natural and effective? Perhaps how you came to decide to utilize these kind of things?
The top hat is actually an image I found on the interwebz. As for the other modified images - I have no idea where I found the patience to do them. My image editing skills are terrible, so it took me many hours of trial an error in Paint.net to create those. As to why I decided to use them - the answer is pretty simple. The song is funny itself, but I wanted to add some jokes of my own. Plus, I really like hidden jokes. You know, those small little things that you rarely notice, but when you do, you get a good laugh out of it.
___
Q: "The Perfect Pair" was also a very enjoyable video. What's the story behind this video?
My first two AMVs used slower paced music and I wanted to try my hand at editing something more dynamic, it's as simple as that. Using Baccano was a no-brainer, since I absolutely adore that anime. Plus Miria & Isaac are amongst my favorite anime characters of all time. They deserved a tribute video and I think I did an ok job. People seem to like it, so I clearly must've done something right.
___
Q: Stepping into 2011, you started out with "Gay Means Happy", a lovely combination of South Park, Soul Eater and "happiness". What made you want to put this together, and what made you want to use Excalibur of all people to play the central role?
I'm a huge fan of South Park and always wanted to do make an AMV with one of the wacky songs from the movie, especially after seeing Crossfade's two awesome AMVs to "Up There" and "I Can Change". After listening to the OST once more, I quickly decided to use "I'm Super", but choosing the right character for the main role proved to be more of a challenge. I had several ideas, but none of them were good enough. Then I stumbled upon the RTSD MEP. There's a segment there with Excalibur dancing. That's when it struck me that Excalibur is perfect for the role. I mean just look at him. He thinks he's fabulous in his white apparel and pimp cane. None of his relationships with women worked out. He even uses a giant golden duck as a toilet. He's totally gay and you know it.
___
Q: So you decided to focus mostly on a specific character? Did honing in on this speciic aspect make it easier in the planning/editing? In terms of editing, you also had a lovely supporting cast for excalibur (from panty and stocking and many other)? What was the rhyme and reason behind these additions?
"I'm Super" is a song that focuses on one character and I wanted it to stay that way in my AMV. When I finally found the right character for the role, the editing was pretty easy. As for other "cast members", it was mostly dictated by who Excalibur interacted with in the anime. That one scene from Panty & Stocking is there simply because I needed a clip with a passage between two rows of singing people, preferably men (for obvious reasons ).
___
Q: For Akross 2011, you edited "Japanese People Flacking", which is one of the videos I'm personally putting up for 2011 VCA Video of the Year. It seems like such different art/story styles with all of the different anime you chose, yet they came together extremely well. What brought about this video, and how'd you pick the "actors" for this video? How much effort was involved in executing the lip sync for this video?
Thanks for appreciating my AMV, but it's hardly Video of the Year material. Anyways, it all started when I saw the "Young People Fucking" movie and thought that an AMV trailer for his would be kind of cool. It turned out that the "You need to get laid. Very, very badly." line was in the trailer. I thought it would go perfectly when said by Asuka from Evangelion to Shinji. Fast forward a few months and AkrossCon 2011 happens. I like editing for cons since the deadlines help me keep motivated. So, I started editing and as you can plainly see, Evangelion is not used. The reason for that is very simple: not enough scenes. Despite there being so many ecchi comedies, there aren't actually that many scenes with characters together in bed. Because of that, choosing the right animes for the movie characters was the biggest challenge. I went through several iterations before settling for what you see now. In the end it looks ok, though it still bothers me that I used various anime titles for a trailer for a single movie. Oh well, I didn't have much choice anyway.
As for the lipsynch, it certainly required a lot of work and tweaking the lip movements frame by frame. If you look at the timeline for "Japanese People Flacking", there are hundreds of markers there just to help me lipsynch better. I'm not complaining, I love good lipsynch probably as much as haunter103 does, and I am very satisfied with how it looks. Compare it to "The Darkest of Places" and you'll see a significant improvement. That puts a big smile on my face.
___
Q: So instead of sticking with your original concept (which likely would have been weaker), you ditched it in lieu of what we see today. Would you suggest editors to do something similar if they feel as though they aren't getting what they originally wanted out of a video?
Saying I ditched it is kind of stretching it, but it certainly looks different. But yeah, if something doesn't work as good as imagined, just change it. In the end, you might end up with something waaaay better.
___
Q: As a member of foreign communities (such as amv.com.pl), how are they different from a-m-v.org?
The biggest difference between the org and amv.com.pl is size. The polish AMV scene is generally pretty small. This hobby is not very popular in Poland, which is a real shame since we do have some very talented editors. Too bad some of them - like Arczi, AceMan or IncluDe - have already left the hobby. We do get new members from time to time, but you know how it goes – you try to be helpful, they don't take criticism well and/or don't want to learn the boring technical stuff and just quit. Or stick to YouTube. On the plus side, those that do stay tend to improve leaps and bounds, which is a joy to watch.
___
Q: Is there anything about one community that you prefer over the other?
As I said, there's not much difference between the Polish and the org AMV community. AMVNews, the home of the Russian community and a place I visit frequently, is a bit different though. While the org consists mainly of editors, the Russians have a nice blend of both editors, who provide valuable criticism, and casual viewers. Videos there usually get quite a lot of comments. The only downside is 95% of them is in Russian.
___
Q: As a long time lurker, but only a recent joiner to the forums, what made it hard to get involved in the community and what might you suggest making the transition from lurker to active member simpler?
Actually, I was never a lurker. I started commenting on AMVs in the forums as soon as I joined the website in late 2008. You might not remember it because I had a different nickname back then, which I changed just before releasing my first AMV. So yeah, this isn't really a question that should be directed at me since I had no problems in becoming an active member.
___
Q: Is there a good market for anime/AMVs in Poland, or do you focus more on the online aspect of the hobby?
There is a community of m&a fans, but not a large one. To put it into perspective, most cons have less than 2000 people attending, which is not much for a country with almost 38 million people. As a result, the selection of anime/manga titles in Poland is rather poor, mostly limited to mainstream titles that are sure to sell. Naturally the number of AMV fans and editors is also small and because of that I'm more active here than on amv.com.pl. It's just easier to get more feedback here when there are so many other people sharing your interests.
___
Q: Are there any stereotypes about Poland that you might like to squash, or just some facts about where you live that might interest the AMV public?
I'm not even sure what are the stereotypes about Poland. I don't pay much attention to them since they are, you know, stereotypes.
___
Q: Anything you might like to say to the a-m-v.org community?
Yes. I want to finally attend AWA. Can someone get me a visa? Oooh, and a plane ticket. Those damn things are expensive... All jokes aside, I'd like to say thanks to all the people who write guides, provide feedback and helpful tips, run contests, moderate the forums or even donate money to the org. The community wouldn't be the same without your contributions.
___
Q: Well thank you for taking the time to answer all these questions. Is there any last minute thoughts you might like to make, or perhaps some suggestions for new editors just getting started out?
All that I can say is have fun while editing. Don't get discouraged too easily, the beginnings are always difficult. If you enjoy what you do, you're bound to improve in no time. And some minor advice - if you want to gain some attention, work on your AMV titles. A creative/catchy/amusing title can do wonders for a video's early popularity. It certainly did for me.
___________________________
After Thoughts
Honestly, Kosmit is one of those editors that you see has posted a new video in AMV Announcements and nearly wet your pants in excitement. All his stuff is unique, and he's constantly trying new stuff and putting out extremely polished works. Even though he's only got a few years of experience, he's toppling veteran editors left and right.
Plus, he's a great judge, awesome critic and just all around nice guy to work with. Keep your eyes on this one people, he's going places!
Next Time on "The Lip Flapper"
February is coming soon!
Monthly Calendar
-January Complete-
Past Interviews/Discussions
Shin-AMV
Pwolf
Scintilla
Lip Flap
AimoAio
Youtube Panel + Bonus BakaViking Interview