[Please read all]
Through all of this please keep in mind that I am almost totally new to the site, and everything that I have ever done/learned as far as amvs has been through experience, about 2 tutorials from when I was first starting with wmm (I now use Sony Vegas 8), and trying to discover new tricks by watching other amvs, so if anything I say seems entirely stupid, you know why.

I am trying to rip dvd footage for the first time ever. I have been following this guide so far:
http://www.animemusicvideos.org/guides/ ... getb1.html
I am using the NTSC release of Samurai Champloo disk 1. I installed the amvapp about month ago. So far I have ripped it using DVDecrypter, and used DGindex to get a d2v file. I have also been learning to use avisynth, and previewing it in virtualdubmod. I so far have added these settings in the notepad (I am sure they need redone):
MPEG2Source("C:\Users\Brandon\Videos\DGindexed\Samurai_Champloo_Episode_1.d2v",cpu=4)
Telecide(order=1)
Decimate(mode=1, threshold=1.0)
Every 5 frames or so in sequences with a lot of movement, I get a frame that has kind of 2 frames put together. Here is one of the most noticeable examples between the switch of 2 view points: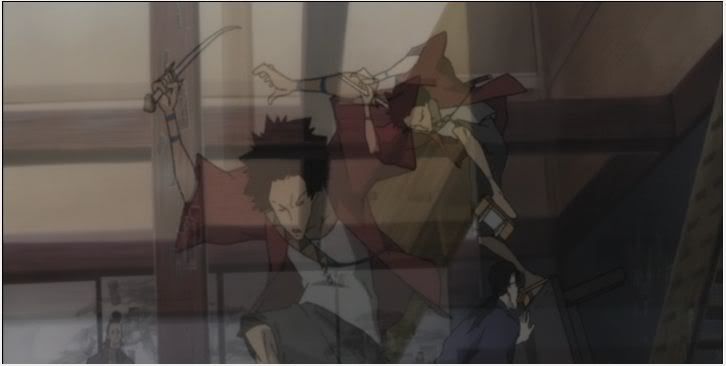 This clearly isn't correct. These are the results that I got from DGindex after it finished doing its thing.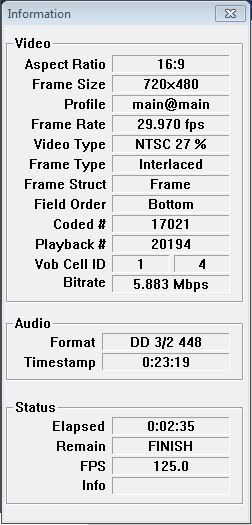 I have no idea how to fix this problem (I cant figure out how to fix it from the guide mentioned), what to do next, the whole aspect ratios thing is confusing me because in virtualdub it appears fine as widescreen, and have little/no experience with this whole thing. I was making my amvs from fansubs of bleach before doing this (yes I know, I am not using them anymore).
In short, just please help.