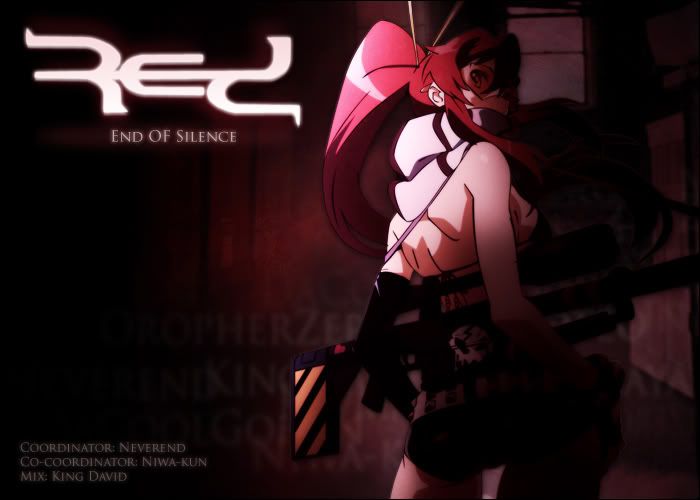 __________________________________________________________________________________________
I
nformation:
RED is a Christian metal band from Nashville, TN created in 2004. The band's debut album End of Silence was released in 2006, and was nominated for a Grammy Award in the category of "Best Rock or Rap Gospel Album" at the 49th Annual Grammy Awards.
M
ix:
Final Mix:
http://www.amvcentral.com/RED/EndOfSilenceFinalMix.mp3
S
pecs:
-Framesize - 640x480 (Letterbox your source if its widescreen)
-Framerate: 29.97
-No Logos or Subtitles
-No hentai or pornography
-No DBZ, Naruto, Bleach, Eva and no game footage.
-Deinterlace your footage before sending in final
-High Quality footage only, DVD or Raws
-Same anime is not allowed
-Finals: Lagarith with uncompressed audio
__________________________________________________________________________________________
T
rack List:
Track 1
- Intro (End of Silence) - Teo - Death Note - Complete - (
Complete
)
Track 2
- Breathe Into Me -
Free
Track 3
- Let Go - Neverend - Akira (
First Beta: 12/05/08
)
Track 4
- Already Over - KingDavid - FLCL (
First Beta: 08/05/08
)
Track 5
- Lost - Jomac - Advent Children (
Complete
)
Track 6
- Pieces - Niwa - Clannad (
First Beta: 08/05/08
)
Track 7
- Break Me Down - Autraya - Armatige (
Complete
)
Track 8
- Wasting Time - Scott Green - Evangelion: 1.0 You Are (Not) Alone (
First Beta: 14/05/08
)
Track 9
- Gave It All Away - Stolen Soul - Elfen Lied (
Complete
)
Track 10
- Hide (Part1) OropherZero - Claymore (
First Beta: 11/05/08
) (Part2) Kevmaster - Le Portrait de Petit Cossette
Track 11
- Already Over Part 2 - ZetZu - Kanon2006
Backup Editors
CodeChrono
Scott green
Flowrite
__________________________________________________________________________________________
First Beta

Deadline

:
9th May -Passed-
Second Beta

Deadline

:
1st August
Final Beta

Deadline

:
15th August
__________________________________________________________________________________________
C
ontact:
Neverend:
- AIM : NeverendAMV
- MSN :
iosjr_Hedstrom@hotmail.com
Niwa:
- AIM : NiwaAMV
- MSN :
Goofy_skater@hotmail.com
One of us will probably always be online! But if we are not. send a pm.
And don't slack off, i want this to be done pretty fast as it has been up way to long!

So get your ass on the chair and start edit! or il kil chu



Thanks to KD for starting this awesome mep in the first place! Also for the tracks and the final mix

__________________________________________________________________________________________