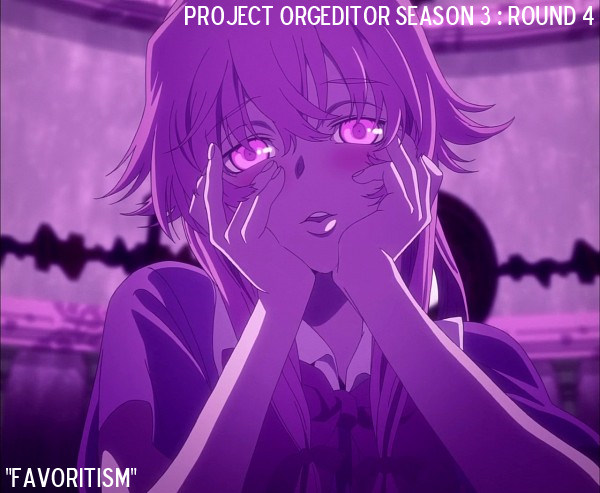 Semifinals Challenge:
After living in the land of fairy tales, it's time to return to the world of a-m-v.org!
For this round,
create an AMV based on your favorite AMV ever cataloged here on a-m-v.org
. This AMV should be your own creative spin on on your favorite AMV, and not just a clone of the previous one. You do not necessarily have to use the same anime (though you can), but the audio must remain the same (remixes/covers of the same song are permitted).
When you submit your AMV to me, please include a link to the AMV you are using as your favorite one.
----------------------------------------
Semifinals Deadline:
April 7th, 11:59 PM CST
----------------------------------------
When Finished:
When finished, please upload your video to a reputable file sharing service and send it to me via private message here on animemusicvideos.org. If you have comments you would like to leave to the judges about your video, please include them with the private message. Names will be removed to protect anonymity.
1) Do not share this video with anyone publicly until the judging has completed on April 7th. Videos publically announced before the go-ahead is given will be disqualified from the contest.
2) Do not add bumpers/credits/intros to the videos you sent to the judges. Videos that reveal their identity before the go-ahead is given will be disqualified from the contest. You may add them when you publicly release your videos.
3) You do not have to wait until March 27th to submit your video. If you finish early and feel like your video does not need anymore tweaking, you may submit it before the deadline date.
----------------------------------------
Semifinals Videos Available for Viewing (Names Withheld):
Videos are available for download through the dropbox system. To download videos, simply choose "download" in the top right corner, and select how you would like to download the videos, either to your local system or to your own personal dropbox.
Video 01
Title:
System Restore
Anime:
Casshern Sins
Song:
VNV Nation
Song Artist:
Beloved
Original Video
Download Link
Comments
Video 02
Title:
Destroying Something Beautiful
Anime:
Various
Song:
Something Beautiful
Song Artist:
NeedToBreathe
Original Video
Contest Version Download Link
*NSFW*
Uncensored Non-Contest Version Download Link
*VERYVERYNSFW*
Comments
Video 03
Title:
LuV aNd jOy oF OuRaN hIgH sChOoL hOsT cLuB
Anime:
Ouran High School Host Club
Song:
Love and Joy
Song Artist:
Kimura Yuki
Original Video
Download Link
Comments
Video 04
Title:
Written in the Chalk
Anime:
Full Metal Alchemist : Brotherhood
Song:
Written in the Stars
Song Artist:
Tinie Tempah
Original Video
Download Link
Comments
Video 05
Title:
The Not So Good Jihaku
Anime:
Various
Song:
Best of You
Song Artist:
Foo Fighters
Original Video
Download Link
Comments
Video 06
Title:
Loli Fiction
Anime:
Nichijou, Lucky Star, Acchi Kochi, Kill Me Baby, Azumanga Daioh
Song:
Das Omen, Lauf der Zeit
Song Artist:
E Nomine, E Nomine
Original Video
Download Link
Comments
----------------------------------------
Results:
(3 Eliminations)