Thanks to this
post on Twitter
for bringing forth the contest sheet: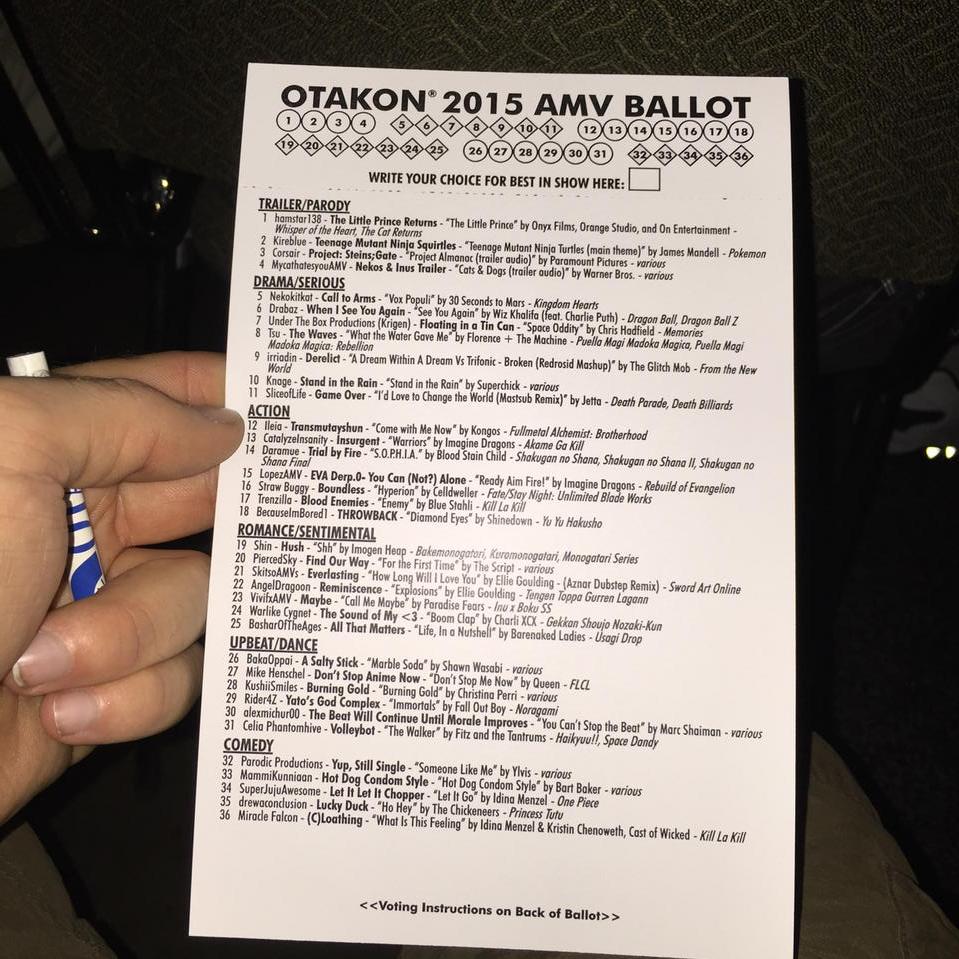 Its been a few hours, so I am going to do this off the top of my head. Apologies if I get something wrong.
Trailer / Parody:
2nd Place: Project: Steins;Gate / Corsair
1st Place: Nekos & Inus Trailer / MycathatesyouAMV
Drama / Serious:
2nd Place: Call to Arms / Nekokitkat
1st Place: When I See You Again / Drabaz
Action:
2nd Place: Transmutayshun / Ileia
1st Place: THROWBACK / BecauseImBored (Also Iron Editor winner)
Romance/Sentimental
2nd Place: Maybe / VivifxAMV
1st Place: The Sound of my

/ Warlike Cygnet
Upbeat / Dance
2nd Place: Yato's God Complex / Rider4Z
1st Place: A Salty Stick / BakaOppai
Comedy
2nd Place: Hot Dog Condom Style / MammiKunniaan
1st Place: Yup, Still Single / Parodic Productions
Best Overflow: ??? I forgot

It's not on the contest list. It was the Yurikuma Arashi anime though
Vik's Pick: Let It Let It Chopper / SuperJujuAwesome
Best in Show: / alexmichur00
---------------
As promised, I've
already begged
alexmichur00 to put my name onto the AMV. Oh yeah baby.
I thought this was a great contest btw. But I'll want to give specific shoutouts to the following videos for entertaining me greatly.
* Floating in a Tin Can / Under the Box Productions -- Creepy and weird, but that's anime right? I never heard this particular cover of "Rocket Man" / Space Oddity, but it was great and worked.
* All That Matters / BasharOfTheAges -- Pretty much the only video that represented the "Sentimental" side to the category. Great editing to Usagi Drop.
* Don't Stop Anime Now / Mike Henschel -- While all of Upbeat was excellent, I was actually most scared of this video when it popped up. Absolutely superb editing, great concept, great scene selection. Classic Rock set to classic Anime.
* (C)Loathing / Miracle Falcon -- As noted before, this continues the "Wicked" streak at Otakon. Lovely editing, solid concept. Its one of those things that was obvious in hindsight, but it took Miracle Falcon's creativity to bring this video together.
* All of the Trailers/Parody vids: Seriously. Watch them all.
Just a few videos I wanted to give particular recognition to... in case anyone is curious what my tastes are like.