C o c k t a i l MEP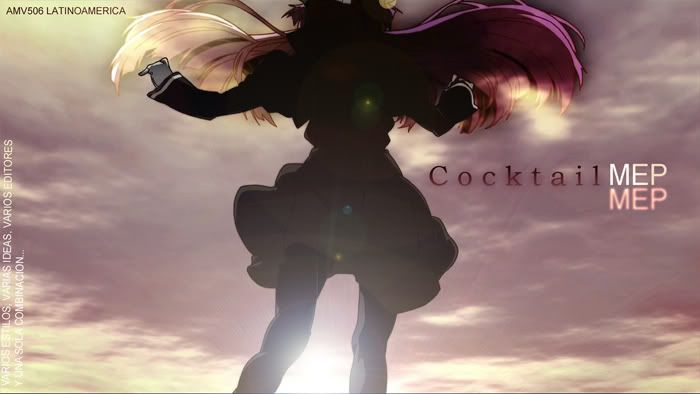 Intro:
OK, ladies and gentlemen are welcome to C o c k t a i l MEP, well... this part is a little story about the MEP, its features, which originated the idea for it so well... idea came from my need to create an MEP with music in Spanish, but I had no reference to an artist could use, but download the entire recording Belanova (De Belanova only knew a few songs) and I found "Cocktail" the Belanova first album... and as the name says it all the disk all the songs have a unique combination of sounds.
I am not here to talk about the album XD, one of those songs that I liked from the beginning was "Y" ohh ehhh, four months after I release my new AMV named the album Belanova "C ocktail" This AMV deals history and Renji Shihiro from a different point of view... combined a variety of purposes, concepts and animation made in AE... but without losing the main idea. The MEP takes these fundamentals.
The idea of MEP
Well, the name of the project is "C o c k t a i l MEP" and what we will do is try to copy the idea of the first "C o c k t a i l" But make no mistake, this means that each segment in the editor can make the idea or the style you want depending on the music ... we will do a combination of concepts, ideas and different styles ... we will Cocktail XD
One of the particularities of the MEP is to be divided into two parts, one part will be made by the best editors in Latin America and the second section will be guests editors... YOU!
Editors of Latin America!
Megamom (Costa Rica)
Jemm54 (Argentina)
Farm (Chile)
u_queen (Mexico)
Yorleni-Sama (Venezuela)
Guests editors
Koopiskeva
Nya-Chan
Niwa-Kun
Rules:
1 - Only two per Animes editor.
2 - Do you not change the time of the segments.
3 - You are free to make the style you want in the video.
4 - If you do not follow the rules, you have to send money to Megamom, the PayPal account.

5 - Do not repeat animes!
6 - First Beta deadline August 5... 2009!
Final Video:
-DVD or RAW footage only
-Framesize - 704x396
-Framerate - 29.97
-Codecs - DivX high quality Quantizer 1, Huffy, Lagarith or MP4.H264
Beta:
MP4
Latin America segments:
Intro:Megamom
Track 1
Editor: u_queen
Animes: Millenial Actress
Betas:

Status:

Extra Track 2
Editor: Farm
Animes: Gunslinger Girl
Betas:

Status:

Track 3
Editor: Yorleni-Sama
Animes: Bakemonogatari
Betas:

Status:

Track 4
Publisher: Megamom
Animes: EF - Tales Of Melodies, Ef-the latter tale.
Betas:

Status:

Extra Track 5
Editor: Jemm54
Animes: Zero no Zsukaima
Betas:

Status:

Waiting for the segment selection of latin editors
LatinZone

Segment Guests:
Track 6
Editor:
Niwa-Kun
Animes:
Macross Frontier
Betas:

Status:

Track 7 Extra
Editor:
Dn@
Animes:
Beyond the Clouds
Betas:

Status:

Track 8
Editor:
Koopiskeva
Animes:
Mahoromatic
Betas:

Status:

Track 9
Editor:
Nya-Chan
Animes:

Betas:

Status:

Complete Mix
I hope that editors guests (Nya-chan, Mirkosp, Koopiskeva and Niwa-Kun)... choose segments soon!


Back up editors: LaLoKa
Some... questions?