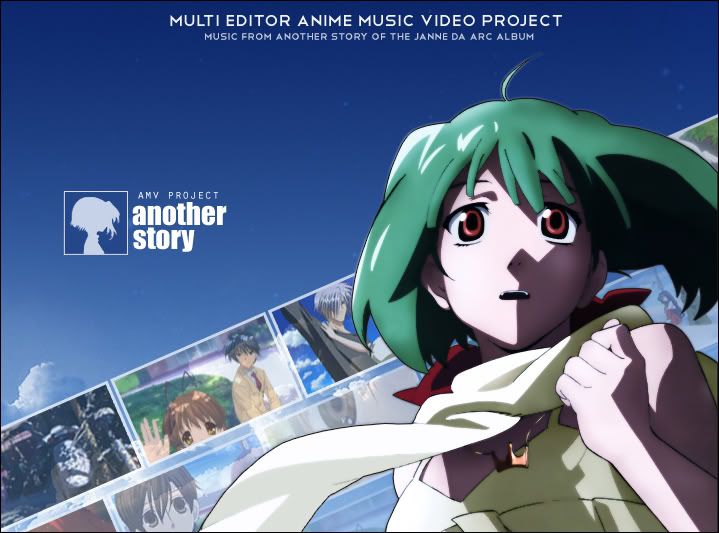 After a lot of thoughts, I re-opened the project again because of the interest. Let's make this right! :3

It was first planned as a friendly project but since there is some spots left I thought I could bring this out and see if some people here are interested of joining. As for the concept and intention for the project for those who are curious about it. There is no special ideal behind it however I did plan in the beginning to decide the source for each member to create some kind of story related from a book. Since this my first time as a coordinator on a mep I decided not to implant that idea and went for the usual instead. Who knows, what the next project will lead us to.

Not the usual genre you can see around here and therefore I decided to make my first mix with songs from the album ''Another Story'' of the popular J-rock band Janne Da Arc. I hesitated to make the mix at first because I never made one before but I had some good friends by my side that supported me with the mix and gave their honest feedbacks on it. In the end the mix was finally completed, of course there is some slappy transitions here and there which I tried to fix but it didn't really worked out so bear with me.
Special Thanks:
(for beta testing the mix)
Osnar, Shinnie04, Chiikaboom and Bakadeshi
You guys are just awesome :3 Look forward for your gigantic icecream in your mailbox.

I haven't really thought about any specific style for this project but I do expect everybody to do their best of their abilities and work together as a team. I suggest also that every member contact their neighbour about their transition and try to help each others out if it's needed. Remember this is for fun sake and we're not competing against anyone. If anyone had that kind of intention here, it will be a automatic pistol-whip personally from Chii and you don't wanna know experience that :/

1
.
Not allowed: Naruto, Bleach, Final Fantasy Advent Children, Cowboy Bebop, Karas, Akira, Dragon Ball, Neon Genesis Evangelion, Kenshin, Yu Yu Hakku, Hellsing, X, Shinkai Movies, Sword of the Stranger, FLCL, Death Note, TGWLTT, Tekkon, Studio 4 Movies, Afro Samurai, Amazing Nuts and Animatrix.
2
.
Hentai and any violent content is not allowed :3 boobs
3
.
A source can't be used more than once.
00:00-00:33 -
Intro
- Niwa & -BL- (Motion Graphics)
Paradise
Track 1
: 00:32-01:18 -
Mamo
(Kaleido Star)
Maria no Tsumeato
Track 2
: 01:17-02:20 -
Kain-x-Spirits
(Yakushiji Ryouko)
Vampire
Track 3
:
Part 1: 02:19-02:53 -
Laerium
(Katekyo Hitman Reborn!)
Part 2: 02:52-03:34 -
Chiiisus
(Nanoha the Movie)
note:

this is one of the longest track in the mix and therefore it's divide into 2 parts.
Oasis
Track 4
: 03:33-04:13 -
Mirkosp
(Darker than Black)
What's Up
Track 5
:
Part 1: 04:12-05:09 -
Tkfxamv
(Suzumiya Haruhi no Shoushitsu)
FIRST BETA / CLEARED
Part 2: 05.08-05:42 -
ZetZu
(Kaichou wa Maid-sama)
note:

this is one of the longest track in the mix and therefore it's divide into 2 parts.
In The Story
Track 6
: 05:41-06:44 -
Chiikaboom
(Fairy Tale)
Kasumi Yuku Sora se ni Shite
Track 7
: 06:43-07:36 -
AimoAio
(Kami nomi zo Shiru Sekai)
07:35-08:09 -
Outro
- Niwa & -BL- (Motion Graphics)
Backup:
LopezAMV

MP3
:
http://www.aunstudios.com/downloads/6/b ... %20Mix.mp3
WAV
:
http://www.aunstudios.com/downloads/6/b ... %20Mix.wav

Video codec
: Lagarith/Huffy
Aspect Ratio
: 848x480
Frame rate
: 29.97 fps

1st Beta Deadline: 14th February -

- 600x40 -

- 600x80 -