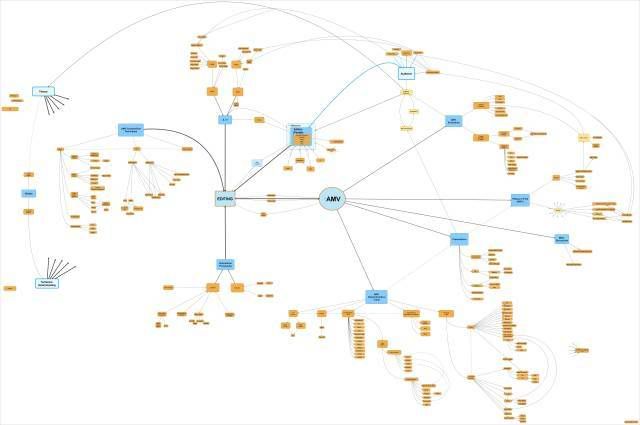 click the image for large version [6358x4220 - 909KB]
Save it to your computer so you can zoom in/out easier.
The original .vue file can be found
here
[562KB]
you will need
VUE (Visual Understanding Environment)
in order to open it.
Basically, I'm learning how to use this program for presentation purposes, so I thought I would make a
concept map with something I like.

It started getting complicated so either I'm going to abandon the projector or let the community have it;
because maybe there's a way to collaborate-- currently VUE does not have these capabilities, and I have
yet to find a program/website that has everything I want. It's even possible to export to an html file with
hyper-links and notes, but I don't really have hosting for that, and the interface is kinda hard to navigate
without the ability to zoom in/out. I predict the internet will make better use of this type of technology in
the future. It really helps clarify ideas/relationships, and is excellent for deep understanding of concepts.
Just think what it would be like if I added that section about The Guides...
Plus, how many times have we discussed the same topic over and over again?-- With a concept map,
everything written about a particular topic can be put into one location and linked to on the map.
There's probably stuff you will disagree with [like AMV Genres, and AMV Composition Techniques, which I
completely made up from my own experiences] but don't forget that this is
incomplete
, and can always be
changed. Actually, I don't think it can ever be
complete
, so I encourage discussion.
Anyways, there it is.
Thoughts?
Is any of this accurate?
corrections? changes? improvements?
better program?
make your own? collaborate? add to it?
...etc
~Phan