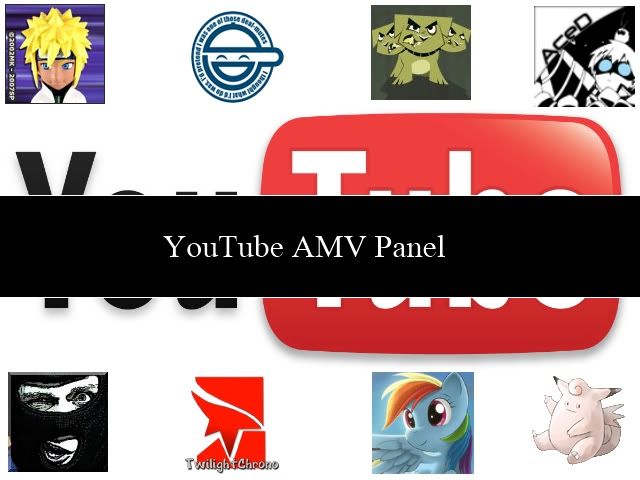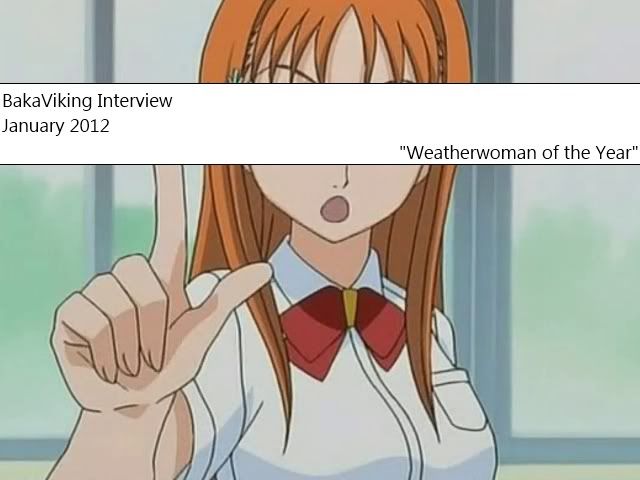 Disclaimer: These interviews are not associated with a-m-v.org, and do not reflect the opinions of its administration.
_________
Description
Welcome to the Lip Flapper! Each week, we delve deep into the community and get a good look into both individual members as well as group discussions on various issues that surround our hobby.
_________
This Week in "The Lip Flapper"
This week, we have an awesome double feature. We take a moment to talk about YouTube with an esteemed panel of editors, as well as get a moment to speak with
BakaViking
, who edited the very entertaining
"It's Raining Bleach Men"
video in the past few weeks.
_________
The Panel
CodeZTM wrote:Youtube was originally a word that was very negatively associated around the parts of a-m-v.org. However, with the times changing, Youtube became a second home for a lot of editors, and many users utilize it alongside a-m-v.org.

What are your thoughts on Youtube as a medium for AMVs? Do you like it? Do you hate it? Just give me your honest opinion about the website and how you would compare it to animemusicvideos.org.
______________
GloryQuestor
GloryQuestor wrote:In my opinion, YouTube is actually a good medium for all types of videos and the best way to get videos out onto the Internet. I have many subscribed video editors there, such as JamesNintendoNerd (James Rolfe) and IrateGamer (Chris Bores), just to name a few. A lot of people have built fandoms and cult followings around themselves through YouTube, so the medium itself is a great way to forge celebrity status where there was none. There are also settings to make YT videos privately-linked, which also makes it a nice beta video viewing tool for those working on video projects and only want select people reviewing it. So, in the end, I have no issues with YouTube or the community around it, but only have problems with those who seem to think that we are music video "snobs" or believe that the AnimeMusicVideos.Org community is "hard on them" for giving them honest constructive criticism. Our quality, our themes, and our creations may vary, but in the end we're pretty much all brothers and sisters in the art of AMV creation.
______________
Otohiko
Otohiko wrote:I'll make a parallel here: it's a lot like what music fans think of iPods, digital distribution, streaming, podcasts, etc. For some, it's the worst thing to happen to music; for other people it's the best thing to happen to music. For some people, digital music is the death of albums, high quality sound, real listening parties, and most of all attention spans. For others, it's the best thing to happen to music because all of that allows them to listen to music anywhere, anytime, in any order they want, discover more music than they could've ever seen before, and interact with fan communities that you would never have come across otherwise.

Just like the traditional, at-home listening to music as albums, the .org has always been about the creator. Compared to youtube, it still allows AMVs to be packaged and presented a lot more thoroughly, and enjoyed in a setting where it is the center of attention. It still attracts the AMV equivalent of audiophiles, and as a result the community is often pretty technocratic. Youtube, on the other hand, like digital music, is all about the fan. It is extremely viewer-friendly and almost totally viewer-controlled. But it also tends to encourage a mode of viewing that's often inattentive and can undermine the editor's ability to get their big idea across.

Which one is better - well, that really depends on what you're really looking for from AMVs. From my perspective, I see both good and bad things about youtube. The .org's model is more appealing to me, but at the same time I can't help but agree that because youtube is so much more viewer-centered, it is simply better at making viewers come back and watch more and more AMVs. Here on the .org, I think we can - and even have to - learn a lot about what youtube does right. Because, like it or not, it's the standard of what people expect from watching video online today.

For the average editor, youtube is a useful tool and something worth putting your videos on - but you have to be careful, as many of those who've had their channels removed probably discovered. I think looking at youtube as a community or 'home' is a bit weird - it's not a community, it's a medium. Communities can and do form inside it, sure, but by itself youtube is just a tool/service. What you do with is up to you, and I think any AMVer can use it to their advantage if they want to.
______________
AceD
AceD wrote:Firstly you need to start by wondering why was youtube even negatively thought of in the first place? Elitism as far as i can tell. People here thought they was better than everybody else, high up on a pedestal looking down upon everybody else. Of course criticism has always been a key factor towards improvement around here, but i remember some years ago a lot of the comments were straight up nasty towards people, not helpful at all...and so people left for youtube.

Then you come to today, it's a place where everybody uploads there work still; a fantastic reference for amvs and cataloging work (which is its true purpose?), but the community is almost non-existent. It's on youtube.

Am no editor but it's meant to be something for fun and enjoyment, too a lot of editors just generally having a good time and publishing their work is all they want; youtube wins. I would say for quite a few people (perhaps not the ones reading this) it's more a case of youtube is their primary home, a-m-v.org is secondary.

From the viewers angle; youtube is shocking for finding amvs. You really can't recommend youtube as a main source of videos unless you actually know where to look...for the average viewer they will struggle on youtube to find videos they like, where as on here its very easy.

If i say my channel (which most will have seen by now), basically a compilation of great videos from 11 different websites worldwide, whats to hate? everything you could want is sat on a single page.

I use these two sites in different ways, i don't browse youtube and am more "in the shadows" here, but ultimately as a "medium for amvs", youtube playlists are the -best thing ever-
______________
mirkoSP
mirkoSP wrote:Some might not know this, but I originally started on youtube. The first AMV I got the chance to see was AMV Hell 3 on youtube by chance, at that time I was a total newb and didn't even know what an AMV was ─ I think we're looking at the late 2005-early 2006 timeframe. In not too long I did find a-m-v.org, originally I subscribed just to download vids on local, since many good videos weren't on youtube, or I would have liked to keep a copy to rewatch whenever I wanted.

Fast forward about a year and I got to make my first AMV with a friend, which I entered both on org and uploaded on Youtube. Back then I didn't really mind about the difference.

However with time and getting to know AMVs better, I eventually deleted my Youtube account (and made a new one which I just use to watch videos), for three reasons:

1) The community was getting rather annoying. A lot of people would spam videos, ask for subscription exchanges and so on. It just was not what I wanted. People only cared about having more subscribers and upvotes than they wanted new people to genuinely see and enjoy their vids. It got to the point where everybody was just doing "betas", not actual AMVs anymore. Moreover this also caused the edited videos to get more stagnant: the userbase was actively making the hobby to become only more of the same, as AMVers would always edit the same things, except shorter, and people would not ask for anything more.

2) As I grew from a technical point, I started to recognize the limits of streaming and abhorring them. Resolution and bitrate limits being the most common and shared on org's preview too (but it's only a preview, so it's ok with me). However on youtube, streaming is the point and along with resolution and bitrate, it also limits framerate, which hits on both smoothness and sync, thus ruining the AMV. Quality is just not comparable with a proper download, and that is important for me. While there are old AMVs that are only available in low quality which I do enjoy to this day, a higher quality version would certainly be a lot more appreciated. It just feels backwards to me to be giving people a lower quality version of an AMV that required hard work to produce, it seems more logical to offer them the highest quality possible.

3) As Youtube grows more important and renown by the day, issues for AMVers become more appearent. Frequently I hear about editors which try to alter the audio and video tracks in an attempt to bypass Youtube's content recognition, often to no avail, which ends up in videos being available for a short time at best, and more hassles for both editors and viewers.
In the end, while I need to thank Youtube for initially letting me know about AMVs, I find that it ultimately is not thought out to be a platform for AMV enthusiast that genuinely care about the hobby in all the deepest details as a-m-v.org was meant to be right from the beginning, hence why I eventually shifted to this place in a stable manner.

While I don't condemn Youtube's choices, I just do not think AMVs is what it was thought for. It's certainly a good site with its own merits, with its broader appeal to the average joe which certainly has heard about it at least once, and it might be a nice way for people to get to know about AMVs (it worked for me, and not all the world has conventions with AMV contests), but it's not meant to be a growing place nor an alternative to the org. I can at most see it as a side thing to have, along with the org, just not as the main and only medium.
______________
The_TEKnician
The_TEKnician wrote: I do not look down upon Youtube as a hub for AMVs and their creators. However, I have to say that I indeed frown upon the kind of AMVs I see posted there.

Youtube certainly has its convenient sharing capabilities that most people (including myself) find appealing. Even more so the assortment of "awesome" and "cool" comments one receives on a regular basis, the number of views, number of likes, etc. However, the trait it lacks entirely is something crucial to an editor: Constructive feedback.

To the creator of an AMV, if the feedback of his/her video is merely "awesome", then he/she may fall into the wrong mindset that their video was indeed "awesome". They then no longer feel the need to further their skills and can fail to see what we here at the .org would identify as major flaws. The threat Youtube can pose to a beginner-level editor is a false sense of security. Speaking from experience, sad to say, I thought that the videos that I made a few years back were "awesome". How foolish I was.

Compared to what I am exposed to here, often the AMVs I see on Youtube are by far "NOT awesome". We here treat the creation of AMVs not as silliness, but as a science, a skill...

and

silliness.

We collaborate with other editors and technical experts to constantly improve our ability to produce true awesomeness. We receive unbiased commendation as well as constructive feedback. THIS community is certainly not lacking anything. We have guides, a kick-ass discussion forum, super searches, news/info, etc. We have available here all the knowledge we need to make a great AMV.

But if there is such a wealth of knowledge and companionship here, shouldn't we be exclusive to only this site? That is a definite no. The whole idea of "Sharing" condemns favoritism. As mentioned earlier, I my self do not look down upon Youtube as a Hub for AMVs. In fact, I myself post my creations to that site as well. I for one find it refreshing to receive random commendations and thumbs. However, if I wanted to further my skills and improve my editing, I would come here. To put it simply, Youtube offers quick-gratification for a job well-done. The .org makes you a better editor after each video. And

both

are necessary if one wishes to continue to make awesome AMVs.

If I were to look back on my AMV career if I hadn't discovered this site,

this is what I would think
______________
TwilightChrono
TwilightChrono wrote:One thing that A-M-V.org has that Youtube doesn't have is the ability to Coordinate precisely with other editors for a project such as a MEP. It's easier to get into contact with others and discuss certain things regarding the project. It also makes available well thought out statements about your videos that offer TRUE insight. While Youtube comments are normally along the lines of "Most Awesome AMV I have ever seen" or "Epic" or the dreaded "FIRST!"

Youtube on the other hand has the ability to get your videos out there to a wider range of viewers in a shorter amount of time. So it's kind of a double-edged sword. But uploading to both sites can be a positive factor as well, as not only will people see your videos on youtube, but if they like the video then they can go to your .org page and download them.

In my opinion however, I would have to say I prefer the org. The community here is much more stable and tailors to my editing craft, where as videos posted onto Youtube, normally only get shown to a certain demographic such as Otaku's and others who aren't really interested in AMV's won't ever see it unless they actively search for it. The org is for opinions and the organising of projects. Youtube is more for Quick Comments and the perverbial View Count.
______________
ngsilver
ngsilver wrote:I personally don't find Youtube to be a great medium for amvs. This is mainly due to their policy of taking down videos or muting music on videos that their systems deem as copyright infringement. As much to do with this hobby is considered infringing on copyrights, at least as far as the distribution of ones work goes, Youtube just isn't a very friendly place. Take the recent megaupload video controversy with UMG using Youtube's content filter to remove a video they had no rights to. True, the video was later re-instated as UMG could not make any claim other then having a 'special agreement' with Youtube which it would seem is false, but the initial damage is there. Without legal clout, once an AMV is removed from Youtube it will keep getting removed. Plus after so many strikes they ban your account. I know many editors have been banned multiple times and each time they have to create a new account and put their videos back up on those accounts. Personally, I don't find that very friendly. I'd much prefer to not have to keep re-creating accounts, re-uploading videos, and setting all my favorite vids, playlists, and preferences back up every few months/years/ect.

Sure, I've seen people make up tutorials on how to get your videos re-instated by claiming fair use. What about this hobby is truly fair use? You're often using more then 30 secs of footage from the anime source of it is rare that you would use less then 30 secs of your audio source. It's been debated long and hard and as an author myself who deals with his own legal matters I personally don't see any real claim for fair use as far as AMVs go. As such just based on this I find YouTube to be a hostile environment as it is an extremely well known site and as such due to it's popularity it is constantly in the eye of the copyright holders.

However, if I overlook the copyright aspect of things, I can say that for sharing video YouTube has it's merits. It's upload engine is robust and works extremely well and is easy to use. True, it can glitch out and if you have a flaky connection the glitches are more prevalent (something I have experienced) which leaves me wanting an FTP option so that I can resume uploads rather then having to delete the original and restart from the beginning. There are a lot of other features that YouTube provides which helps an editor out, such as annotations (which admittedly I don't use) and video editing tools (which I have used on many occasions to fix errors on my iPhone clips,) and overall the whole process of putting up a video is streamlined and easy.

If I take in contrast the org, I find a lot of things geared for but also against editors. First, the system we use to catalog and store videos is old and archaic. It hasn't really been updated since it was created. Sure some changes have been made, but most of them were additions to, not direct alterations. Overall this old system, while I still enjoy it as I've used it for 9 years now, is cumbersome and daunting for new editors to tackle. This aspect often turns new editors away. It's just much easier to submit their work to YouTube. Sure, we're planning on re-designing the org, but honestly, we lack the dedicated coder base in order to actually do this. The ones that we do have just don't have the time.

Next we need to look at the community. YouTube has a community that is all about the here, the now, and overall just isn't very critical. It's an easy place to go if all you are looking for is a quick view and a few words of praise. If you don't get praise you can easily remove the negative comments. Overall, it can be an uplifting experience for a new editor and they can kill any negative feedback. But then due to the massive size of YouTube in order to get noticed you have to do more, you have to really promote your videos put in lots of keywords and what not and basically do a ton of work outside of your editing.

In contrast the org is a much more AMV centered community. True it has become more about the look of a video then perhaps the feeling and as such is highly critical. This in turn can be a turn off for new editors or editors who are not really looking for proper honest feedback, especially lacking the control to remove negative feedback. This drawback however is also one of the better elements of the community as it is centered on the art and craft of AMV creation thus in turn it is dedicate to raising the bar and pushing the envelope of the medium. To get noticed on the org also doesn't take as much work really. You don't have to troll other videos and post keywords. All you have to do is submit your video and for increased numbers put your video out on the forums for view either in the opinions or announcement forums. New names may get overlooked, but a true creative video will get seen and spread with little work on the editors part beyond making the video.

Overall, I find the org to be a much more inviting place for AMV creators. I do understand the plus side of YouTube, after all it is one of the only places I can release my Live Action and MLP videos since they're not allowed here, but there are many drawbacks. I just find the drawbacks to be too much for me so I'll continue using the org and my own website to distribute my videos.
______________
kireblue
kireblue wrote:I think that both Youtube and a-m-v.org are invaluable to the AMV community. Youtube is the place where many editors (including myself) first started getting interested in AMVs. I just can't imagine how the AMV community would have become as big as it is today without the prevalence of youtube. Most people that watch AMVs at conventions have never even heard of a-m-v.org. The org is definitely the best place to share knowledge between AMV editors, but youtube is the best place to expand the popularity of AMVs in general. Even people that don't watch anime can sometimes stumble across AMVs on youtube and enjoy them.

And on another note, I just wanna point out that when I first created a org account in March 2007, I didn't do it to upload my own AMVs. I made this account just to download Breaking Bonds after I saw it on youtube. This why I put a org download link in the video description of almost all of my videos. I think that instead of shunning youtube, the org should use youtube as a medium to expand itself.
_________
The Interview
Q: Thank you for taking the time to answer my questions! Why don't you start off by introducing yourself?
Hello! I'm actually a Viking. Or at least as close as you get: I'm Norwegian. I wear normal clothes and don't have a habit of burning monasteries and killing people, I watch anime instead. I'm female and work as an archaeologist. I've been watching anime for a few years now, and AMVs for nearly as long. I'v been editing for less than a year, and after a few failed attempts I recently finished my first AMV.
_____
Q: Norewgian eh? Care to share a little about the anime/AMV culture there, or perhaps some fun facts about your part of the world?
Anime has been getting bigger the past few years, and the larger cities have shops that sell DVDs/manga/overpriced Pocky now. There's an annual convention in Oslo (=capital) each year. You even see random cosplayers on the streets. Personally I don't know a lot of anime fans, and even fewer that have heard of AMVs. So I'm pretty Internet-based.
Fun facts? Oh dear, where to start? Norway, the home of A-HA, the paper clip, cheese slicers, caerosol spray and no more that 4,500 000 people. We love skiing so much that in the summer, people use little skis with wheels attached (srsly, google "roller skis"). Our crown princess runs a school that teaches people how to communicate with angels. Our biggest cultural export is Black Metal. The average Norwegian consumes 10ish kgs of coffee a year, that's three times more than the average American. Yeah.
_____
Q: Well thank you for joining me today BakaViking. Let's start off nice and easy and find out what made you want to start editing?
I'm a creative person, and I seem to be always working on at least ten different projects at a time. I love music, and I love anime. I've been watching AMVs for years, and it got to the point where I had so many ideas of my own that I just had to get started.
_____
Q: Ten different projects? Care to share a little about what other projects you're working on at the moment (even if they're not AMV related)?
I draw and do some digital illustrations (nothing anime-related though), I dabble in graphic design, I do crafts (anything from geeky embroideries to knitting to reconstructions of historical clothing), I cook a lot, I write a blog about food and science, and I seem to generally have an interest in...everything. My day does not have enough hours.
_____
Q: You recently joined a-m-v.org. What made you decide to join our community?
I'm a n00b, and I know it. I want to learn, and I wanted to get constructive criticism. You don't get a lot of that from places like YouTube, the comments are often very superficial and over-the-top-positive no matter how terrible the AMV is. I've been familiar with the org for a while, and had a good impression of it.
_____
Q: So you came to a-m-v.org for quality feedback? The harshness/bitchiness isn't a turnoff? Aren't the positive YouTube comments a little empowering?
Of course they are, I'd be lying if I said something else! I'd also be lying if I said I don't get frustrated and grumpy over harsh comments. But generally I don't think it's THAT bad in here, I've seen a lot worse. I think it has a lot to do with attitude: you can't post a video and expect only praise.
_____
Q: Was there any difficulty in making the decision to join our community? (We've been known to be a little more harsh than other communities).
Nope! Probably because I wasn't aware of the rumors. I've seen the org mentioned a few times in blog posts, other forums and on YouTube, but as far as I can remember it hasn't been anything negative.
I had also read a few threads on the forum as well as some opinions on uploaded AMVs, so I knew roughly what to expect. I'm not always the best to deal with direct criticism, but after sulking in a corner for a few minutes I can usually learn from it.
_____
Q: As a newcomer, how do you enjoy our community thus far?
I like it! I've gotten lots of useful feedback. Not surprising, some comments are more polite than others. But they've all been helpful and to the point. I've been reading some of the guides and threads, and there is just so.much.to.learn. I feel like I'm in the right place here
_____
Q: You said that there's a lot to learn from the org. Any trouble finding specific guides or any organizational issues that you feel we should improve upon to make the guides more user-friendly? (Oh, and be honest!)
So far: no. But then again, I haven't exactly read all the guides. I'm working my way through those that are most relevant to me now. There's quite a few confusing topics, but I thinks that's more due to the fact that most of this is new(ish) to me. Between the guides section, the larger threads in the forum, AND the possibility to ask questions there, most things are probably covered? I'm sure there are things that could be improved upon though, I just don't have any suggestions right now Is there a guide/thread about what NOT to do? I know the topic is touched upon in several guides, but there should be some sort of a list aimed at us newbies. You know, things that probably seems like a good idea at the time, but definitely isn't and why.
_____
Q: You also stated that you feel like you're "In the right place here". Care to elaborate on that a little?
Not much to elaborate on really: helpful people, an active forum, tons of great AMVs, and the opportunity to learn lots! And the opportunity to be bitchy on a bad day. *evil grin*
_____
Q: Ok, ok, enough about our community. Let's talk about you for a bit! Your first video was "Raining Bleach Men", which was a combination of two very overused sources (Bleach & The Weather Girls), and yet it was a very successful/enjoyable piece. What made you decide to edit this, and how'd you go about editing this?
I wanted to do a Bleach AMV, but I wanted to stay away from the usual ideas. Things like action vids mainly featuring Ichigo with something like Three Days Grace. Or "OMG look at all teh sexeh fanart!" slideshows. One day while waching one of the later eps, it struck me that people are falling and jumping a lot in Bleach. Like, silly amounts. "It's raining men" immediately came to mind, and the idea was born.
I'm usually an Adobe-fangirl, but I ended up using Sony Vegas Pro, which I had played with a bit before. I tried to get the basics down first (sync, scene selection etc.) before adding any effects. And then I played around with those. Nothing fancy though, I think a lot of newbies get caught up in all sorts of funky transitions and colours and whatnot, and forget about the big picture. Having said that, I'm looking forward to playing with Vegas a lot more
_____
Q: Out of curiosity, where'd you go in order to get the basics (sync, scene selection, ect) down, or how did you know how to edit this piece together? Had you been watching a lot of videos, or did you refer to a guide first?
I watched a lot of videos. I've been analyzing the AMVs I like for a while, so I had a pretty clear idea of what I think works and what doesn't, and some general ideas of what maks an AMV good. I also watched many AMVs with the same song, in order to avoid making something that was too similar to those. And I got some ideas from those on what to do and what not to do. I also had to think through what I could do, being a beginner and all that. The falling men and the idea of syncing that too the music was the starting point of the vid, the rest came along as I worked on it. I'm not usually one to have a finished and fixed plan when I start a prioject, this was no exception!
_____
Q: The only real issue with the video was its poor visual quality. Do you have plans of improving this in the future?
Definitely. I was aware that the quality was an issue, but decided to go ahead anyways, since it's mainly a light-hearted and humorous AMV. [poor excuse] Also, there was no way I was going to get hold of that many high quality Bleach episodes. [/poor excuse] Next AMV will hopefylly be much better!
_____
Q: So the time/monetary expenses in acquiring better footage was the main dissuading point in your decision to edit with what footage was available. Now that you realize the popularity/success of your video, do you think you might one day come back and edit it again with higher quality footage?
Hm. Right now I can't see that happening (I tend to get a bit fed up when I finish a project) but maybe? It'd be fun I'm sure - along with making other improvements.
_____
Q: Can we expect more AMVs from you?
Yes! I've got several ideas already. Might take a while though, as I tend to work slowly, go back and change things a lot, and have periods where I get fed up and don't work for a while.
_____
Q: What makes you come back from the "fed up" periods?
Usually new ideas. It could be any random thought I get while doing something else, or ideas I get if I sit down and re-think old projects. Or anything else that gets me in the creative mood. Sometimes boredom works. Or having something else that you need to do but don't want to - procrastination is always such an inspiration.
_____
Q: Care to share what you might work on next?
I haven't decided yet, there are a few things I'd like to do – I just need to come up with a strong enough concept first. I definitely want to try out different genres. I finished Panty and Stocking with Garterbelt not too long ago, so i might just go for another silly AMV. Then again, I'd also like to do something a bit more serious, maybe Full Metal Alchemist: Brotherhood? Oh, and i'm a frantic Gintama fan, that NEEDS to be done!
_____
Q: So you've got a lot of ideas, but nothing solid yet? Got anything on a timeline yet that we might see in the future, or is there a way that we'll know when you're working on something?
It's getting there, but I'm not too sure yet. Not too sure when I'll be working on it either, but I have a feeling I'll be bombarding the forum with stupid questions.
_____
Q: Is there anything you'd like to share with the AMV community, or just a-m-v.org in general?
…be nice to the newbie, plz?
(and thanks for all the comments so far!)
_____
Q: What's the best way that the Org can be nice to the newbies?
Be helpful! Give useful feedback, and point people in the right direction. Positive or negative, there's no need to be too harsh, but there's no need to sugarcoat things either.
_____
Q: Well thank you for taking the time to answer all my questions. To close out, how about you give some advice to anyone that might want to get involved in the hobby?
Give it a try, have fun. Ambition is good, but don't have unrealistic expectations! All the polished and perfected AMVs are a great inspiration, but if you're aiming for that chances are you're likely to be disappointed. Instead, try to analyze them and figure out what they're doing right – and try to apply that to the editing level you're at.
_________
Next Time on "The Lip Flapper"
Join me next week in our last interview of the month when we speak with Kosmit, editor of the hit comedy videos of 2011.
Monthly Calendar
January 2nd: Scintilla Interview
January 9th: Lip Flap Discussion
January 16th: AimoAio Interview
January 23rd: Youtube Discussion + Bonus BakaViking Interview
January 30th: Kosmit Interview
Past Interviews/Discussions
Shin-AMV
Pwolf
Scintilla
Lip Flap
AimoAio
Youtube Panel + Bonus BakaViking Interview