Mad Scientist
Joined: Thu Feb 03, 2005 10:55 pm
Status: Human McNugget
Location: Wall Rose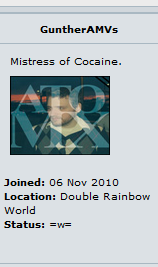 Waaaaaaaaaaaaaaait, you're not Brad!
---
Ryan Molina, A.C.E
Joined: Tue Jan 16, 2001 8:45 pm
Status: Retired from AMVs
Location: California
Contact:
Yup, chit gets the best ones
---
Ambassador of the AMVWorld
Joined: Fri Sep 04, 2009 12:38 am
Status: Doctor
Location: Honduras
The 666 image I got is:
Making AMVs by day, Going to Gym by Night

---
Joined: Fri Feb 04, 2005 8:45 pm
Status: The flamer with heart of gold~<3
Contact:
Same thread, one right after another.
---
Spin Me Round
Joined: Fri Mar 03, 2006 6:13 pm
Status: Flapping Lips
Location: Arkansas
Contact:
I found Kireblue!
---
Ambassador of the AMVWorld
Joined: Fri Sep 04, 2009 12:38 am
Status: Doctor
Location: Honduras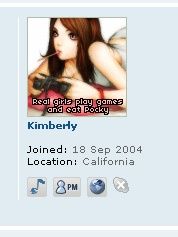 ^ Kimberly knows. I fell in love
Making AMVs by day, Going to Gym by Night

---
Australian Zeus
Joined: Tue Jul 26, 2011 6:15 am
Status: Doing something useless again
Location: Sydney, Australia
Contact:
Aww everything got fixed
---
---
Return to "General Discussion"
Who is online
Users browsing this forum: No registered users and 3 guests