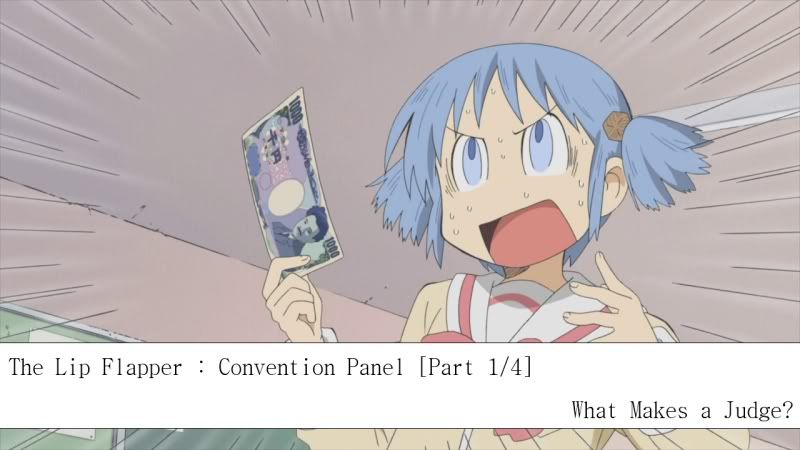 Disclaimer: These interviews are not associated with a-m-v.org, and do not reflect the opinions of its administration.
_________
Description
Welcome to the Lip Flapper! Each week, we delve deep into the community and get a good look into both individual members as well as group discussions on various issues that surround our hobby.
_________
This Week in "The Lip Flapper"
This week is all about AMV contests and conventions! We talk with contest and convention coordinators, people who have been to conventions, those that judge AMV contests, and naturally just everything about them!
We have a 4 part series, finished up with an AMV Review on Friday with an action video that doesn't suck!
_________
The Panel
As a judge/prescreener for an AMV contest, what is the very first thing that you look for when judging/screening participant videos that gets them cut? On the flipside, what makes certain videos stand out? Does the con audience (basically who you are showing these videos to) have any influence on what videos you might cut (Example: Above PG13 material)?
____________
kireblue wrote:There aren't any specific things that I look for when I judge a contest, but the video's enjoyability and category placement are usually the biggest factors that decide how I score it.

In terms of category placement, I think that the genre and purpose of a AMV should always be clear. The purpose of romance AMVs is usually to showcase a relationship, sentimental is usually to get an emotional impact, drama is usually to showcase an idea or series of events, comedy is to get a laugh, fun/ dance/ upbeat videos make you happy, and action videos get you excited. Now of course, not all videos fit snugly into specific categories, and most of them exhibit characteristics of many different categories. But for the most part, when I judge a group of videos for a specific theme or category, I ask myself the following questions:

*1) Which of these videos does the best job at showcasing the typical characteristics of the theme or the category it was submitted to?

*2) Do any of these videos take the typical ideals of its genre and add in a twist or something unique to it?

*3) Do any of these videos miss the mark in terms of having the characteristics that essentially defines the genre. (ex: a comedy video that isn't funny, or a action video that's slow paced and boring)

In terms of enjoyability, Its a bit harder to describe what makes a video enjoyable since I like AMVs of all different genres, themes, and styles. But I guess that the two biggest factors that contribute to me enjoying a video are usually its originality and how skillfully it was edited. Being good at either one of these is usually enough for me to enjoy a video, but the videos that get my nominations are usually the ones that are both original and well edited.

Many times, my option on a video's category placement and its enjoyability can conflict with each other. Last year while judging Seishun-Con's AMV contest, me and the other judges ran into a strange predicament with a video submitted by pink haze called "Dead Moon Masquerade". Out of the 60+ videos that were submitted, it was the only one that received a perfect score from all of us. But we all felt that the category it was submitted to (Fun / Upbeat) wasn't its ideal placement, and that there were other videos in that category that didn't score as high, but were a better fit. Our solution was to exclude "Dead Moon Masquerade" from the finals, but give it the "judges choice" award.

With all of this in mind, there are still many different factors that can add or subtract a few points from a video's overall score. For instance, really bad video quality will usually knock off a few points from a video's overall score, and exceptionally good quality can sometimes add a few. The audience that the contest is being screened to usually doesn't affect how I score a video though. I make sure that I resolve any and all content guidelines issues before the judging process even begins. If someone submits a video that is too close to the borderline, I always send him/her a message and tell them what needs to be changed in order for me to accept their entry. So once they re-submit it, me and the other judges are able to score it fairly and without bias or prejudice.
GloryQuestor wrote:The very first thing I look for is the video that does the most things wrong based on what kind of video it is, what category it's been put into, and if the video's quality has issues. So, if a Comedy video isn't funny or even all that amusing, it shouldn't really be in the running for a Comedy category. On the same token, a decent but beautifully-edited video may overtake a similarly decent but flawed and unwatchable video or one with bad audio cues.

ngsilver wrote:One of the first things I look for is overall enjoyability of a video. This can be very subjective so I often try to keep the audience in mind. Most audiences like upbeat and comedic videos over heavy drama, so those videos often get higher scores in this scale then others. I also look at the overall quality of a video looking at the video and audio quality as well as the overall quality of work that I can perceive went into the video. As before the con audience when pre-screening is heavily thought about when cutting videos. We want to make sure the contest is enjoyable to the audience and also want to make sure there is no content being shown that minors should not be seeing.

Though perhaps the most important thing for a creator to know is what makes their videos stand out the most. That for me as a judge or pre-screener is a video's concept/idea and how original it is to videos I've seen before and compared to the other videos in the contest/category. Romance is a good category to use as an example. Out of 10 videos in the romance category that I may have seen, 8 of them are your standard girl/guy love song and often depict scenes of them being together. The other 2 depict a romantic relationship in a different light, say 1 is about a stalker and the other is about a girl who gets used by a guy and in the end kills him. Taking into account all 10 videos the other 2 that took a different look into the romantic story would stand out and often be rated higher then the rest because of it.
Nya-chan Production wrote: I usually judge mostly based on technical aspect of the video first. I'll just run through the videos and see all those blatant mistakes that scream into your face "Hey, I didn't care" or "Hey, I don't know how to remove this". All this just takes me away from watching the video and usually earns low marks if it goes overboard.
On the other hand once I have a general grasp, the others get sorted by two factors - the first one being how it succeeded in fulfilling the theme. If it was a great dance video, but I am rating horror, something is a bit wrong. Unless it was a great dance horror, of course. The second point is the least describe-able, I suppose. It's rating on my inner feelings, based on how much I actually liked the video and what impact it left on me. Amount of "shiver moments". Those are usually the winners for me.
irriadin wrote:The first things I look for are the obvious technical mistakes like watermarks, improper aspect ratios, bad audio / visual quality, etc. Having watermarks or any dub audio in your video will get you DQ'd. Once past the "immediate" qualifiers, I look for "loosely" edited videos or ones with poor scene selection (like making a video that only uses material from the Fullmetal Alchemist Brotherhood openings). Unintentional lip-flap or anything that provides an unnecessary distraction from the core of your video is not going to count in your favor. I suspect most of the people reading Lip Flapper already know about this, though.

What makes videos stand out? It depends on the category. In action, using rather unique source material (e.g. not Naruto, Bleach, Final Fantasy, Kingdom Hearts, etc) and having a coherent theme (apart from "let's show all the fight scenes") gets noticed. For drama, using an upbeat song or presenting a theme that isn't "doom-and-gloom" makes you REALLY stand out from the competition. During the last pre-screening I attended, we sat through over two dozen drama amv's using songs like "Untitled" by Simple Plan before coming across a more energetic song choice. For comedy, well, just make sure the video is actually funny. Combining a funny song with a vaguely related video source isn't funny!

The audience does matter in some decisions, namely the amount of violence and nudity shown. Since the contest I pre-screen for is not age restricted at all, we have to make sure nothing completely excessive makes it through to cause trouble for the AMV staff. What constitutes too much? Well, I had to cut a scene from my video I submitted which contained a kid getting his arm exploded off by a high powered rifle. Yea... I dunno what I was thinking
BasharOfTheAges wrote:I try to run my prescreenings with a broad group of people to cover all my bases in terms of both technical proficiency and visceral enjoyment. Personally, I immediately try to cut things called out in the rules as big no-nos: subtitles, watermarks, and the like. I'll keep an eye out for content that exceeds the PG13 rating my contest has

(ignoring the documented homophobic double standards the MPAA employs)

, but most violations along those lines are in the audio. If a video isn't immediately cut (most aren't), they get a balloted 1-10 score from the entire group – the highest scorers move on. I try to reward what I personally enjoy, but also give plenty of high scores to things I see to be well done even if they're not my cup of tea. I balance that with the fact that a lot of my fellow prescreeners vote from raw emotion.

For Judges' Choice style judging, I focus on things that I enjoyed that will not get recognized by the audience for just how good they are.
____
Monthly Calendar
February 6: xDreww InterviewFebruary 13: Fanservice Panel
February 20: Magnus Interview
February 27: Convention/Contest Panel
____
Past Interviews/Discussions
Shin-AMV
Pwolf
Scintilla
Lip Flap
AimoAio
Youtube Panel + Bonus BakaViking Interview
Kosmit Interview
Youtube Panel Pt 2
xDreww
Fanservice Panel
Magnus
____
Next Time on "The Lip Flapper"
Join me tomorrow evening when I sit down and talk some more about conventions!