Forum rules
All videos posted in this forum, except for works in progress (WIP), must have a corresponding entry in the a-m-v.org database
Keep in mind that this is for Opinion

Exchange

. If you make a topic asking for an opinion, please offer an opinion in return
Giving out free opinions is always encouraged
When starting a new topic, please put 1:1, 2:1, etc... or WIP somewhere in the title


For example, 2:1 means "I will give you 2 opinions for every 1 you give me"
Drama Text Cop
Joined: Thu Apr 24, 2008 4:43 am
Status: Texty :3
Location: Athens, Greece
Contact:
Shin for Troll of the Year 2014
---
worships at the Cult of D
Joined: Sat Jun 01, 2013 7:20 am
Status: Triple A
Location: United Arab Emirates
can I have a cookie too
Thanks in Advance !
#Get_Dazzled
Be classy, sassy and a bit smart assy !!
---
Joined: Wed Jul 16, 2008 2:43 am
Status: Kill the King
Contact:
---
Joined: Sat Sep 06, 2008 10:06 pm
Location: Miami, FL
Contact: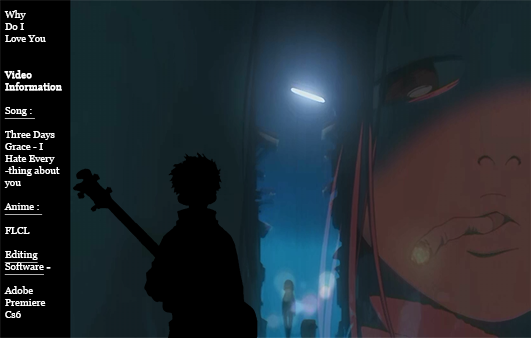 Link :
http://www.animemusicvideos.org/members ... p?v=195071
Song : Three Days Grace - I Hate Everything About You
Anime : FLCL (Fooly Cooly)
Check it out i'll hit you back with another opinion if you do
---
Joined: Sat Mar 22, 2014 4:31 pm
Thanks

in advance
---
Prodigal Pen-Throttle
Joined: Mon Apr 17, 2006 1:50 pm
Status: NMEs Prodigy
Location: Nowheresville, NJ
Contact:
---
Joined: Sat Dec 07, 2013 3:38 pm
Status: Editor
Contact:
YouTube:
https://www.youtube.com/channel/UCmARoSFATdFMVGP_b7rHM7g
I edit with a passion. Remember my name.
---
Samurai Master
Joined: Sun Aug 25, 2002 2:06 pm
Status: On a continuing mission to make more AMV's
Location: Space!!!!!!!!!!
Contact:
When you get a chance could you take a look at my newest amv. It's been a while since I released one.



Thanks
No matter what, stay calm, stay cool and live life to the fullest.
Plus as Gene would say always go big in life.
Anime Mid Atlantic AMV Contest Coordinator 2007-2011
Katsucon AMV Contest Coordinator 2010-2011
T-Mode Contest Coordinator 2013
Nekocon AMV Contest Coordinator 2014

---
---
Who is online
Users browsing this forum: No registered users and 6 guests