this is where you choose that Segment thingy. there is only one box marked,mark that box. after that just chose a folder and file name. here's example of how it should look after you finish.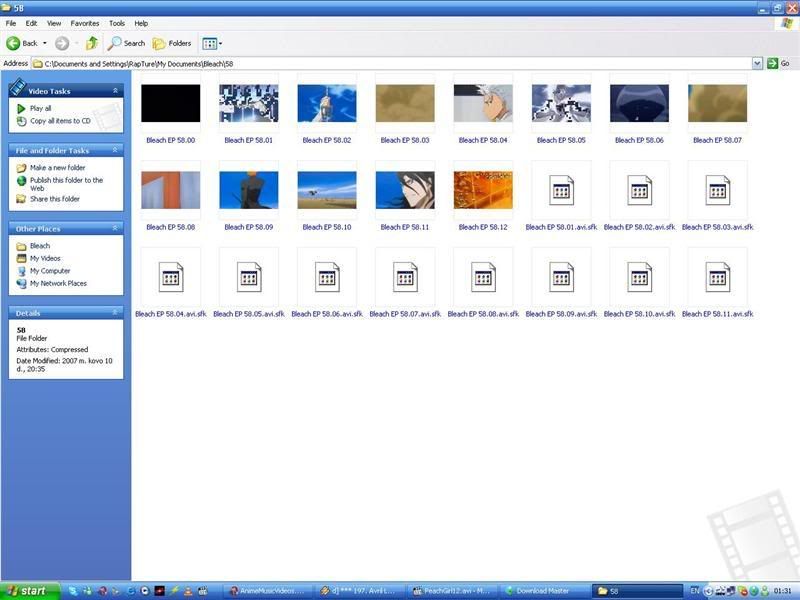 here i chosen Bleach ep 58. codec XviD ; Segmented output. these are parts, A.K.A. segments. as you can see,there is 12 of them (ignore those sfk files,it's just my vegas created them for no reason o.O). each time you segment episode,or a movie,the count of these Segments will be different. segments are counted by size you chosen. i always choose 50 MB limit per segment (that is written on first screenshot) , and then you need to set-up your codec settings. of course higher quality will require more of HDD space,but that isn't the problem,at the end,we all need a good quality,don't we?

so,segment lenght is always different,since on each segment there is different KBPS count,that's because there is either action scenes (fast ones) or talk scenes (slow ones),that requires different KBPS count,and with that,different HDD space as well.
so the moral is like this : mark that box,chose the size (i suggest to leave it at 50 MB(that is set-up as default,since it's lowest space that is allowed for segment)),set-up your codec (i hope you know how at least to do that),chose a folder,name and press "Save". and then just wait until it finishes rendering.

i think i explained understandably?