Greetings, Gods of Premiere!
I'm running Premiere Pro CS4 and I'm building a video for a guy from the footage he took at MAGFest this year. (yes, this video is not related to AMV's. If that's somehow against the rules, I apologize but if it's worth anything to you guys I've been watching AMV's since 2001 and I live with a former AMV creator) My credentials aside, I know this community is a sizeable knowledge base for Premiere, so I'm hoping I can get some help.
I'm running into an error during preview playback and MOST IMPORTANTLY this error occurs during export which crashes the process. It's an ImporterProcessServer.exe error which you can see below: (I'm assuming the forum resizes images it deems to be too big)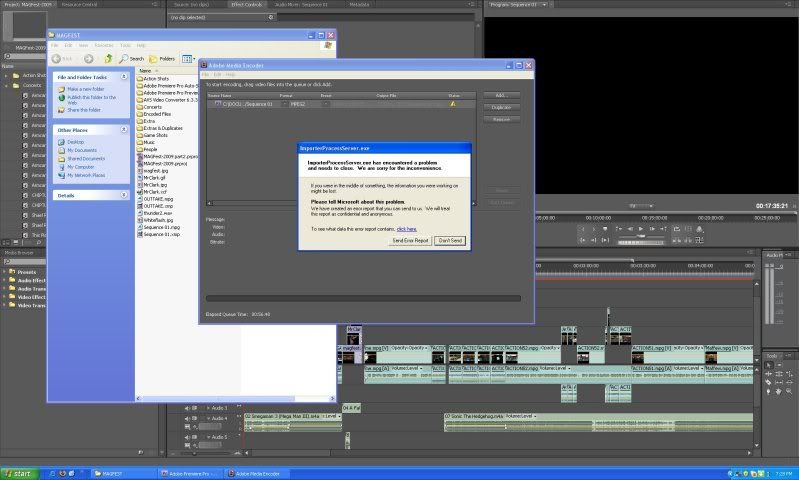 I've done a little Google searching and I've come across suggestions that it might be codec related. I had the CCCP installed when installing Premiere. I tried uninstalling the CCCP and exporting. This slowed down the frequency of the errors but ultimately did not fix the problem. I did a little more searching and found some advice that FFDShow might help if installed. I installed FFDShow, but it didn't fix the problem. I got CodecSniper to look at my system's codecs. Since deleting the wrong codec could cause system malfunction, I haven't messed with it beyond looking.
Now, I could be way off base with the codec thing, or it may be only part of the problem, or I may not have fully understood the advice I got. It could be that my computer is six years old...
The footage I'm using is converted from the guy's camera format which was .MOD (never heard of .MOD) I obtained a video converter and converted the .MOD's to .MPG's (Converting to AVI caused multiple instances of codec processes to open on my taskbar, two for each clip. There are hundreds of video clips... So this was not feasible)
All audio is in MP3 format
I've run a DXdiag.exe for my system so you can see some of the specs of my machine. They're under the spoiler.
Speaking for myself and the guy I'm working for, I'm eagerly looking forward to any advice you guys can give.