whoops, been so busy with school i forgot to update this thing hehe

last time i posted here, i said i was going to do a tutorial on basic titles. I am going to show how to make a basic fade on then off title.
Basic Titling
Alright, to make a basic title, just go File > New > Title
this is titler interface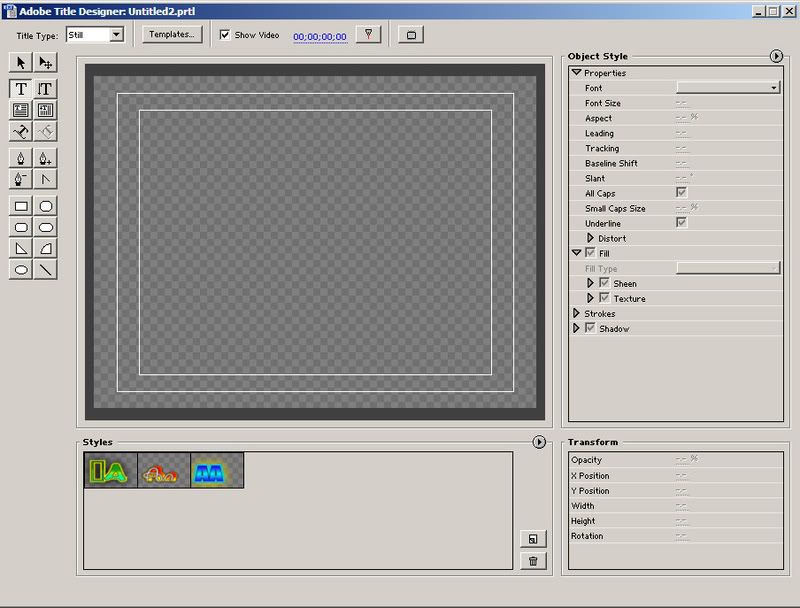 if you have a video it will show through(not in 6.0)
adobe improved it quite a lot but i don't really use much of this stuff. (mostly for credits i make it in photoshop)
Alright, check pick the text tool and type in your text. After you typed click the arrow selection button and move/rotate it to your likings. Here you can also change the text settings. You can add shadow/stroke/sheen/texture and other stuff. I am just adding a drop shadow and a stroke
Then go to File > Save As and save it to where you want it then exit out of the titler
After you exit out, the title will now be in the project window, drag it out on top of the video. Now Alt + scrub your video and you should see your text on top of your video
Now to make your text fade in and then fade out.
there are 2 ways of doing this
1. You the 'Cross Dissolve" transition and make the title fade like that(can only do it on one track though)
2. Use opacity rubberbands to make it fade(much more precise, and can do it on any track except track 1 because it has no track underneath it.)
Ok first expand the track options by clicking the little arrow on the track with your text.
now you should see a red line at the top of the text, click at the desired location you want the text to fully appear from fading. If you click it will create a red point like this :
Then click the rubberband point at the beginning of your text and drag down so it looks like this :

If you alt + scrub, then it should fade on to your video and stay like that. Now to make it fade out, do the same thing to the other side
so after that it your fading text rubberband should look like this :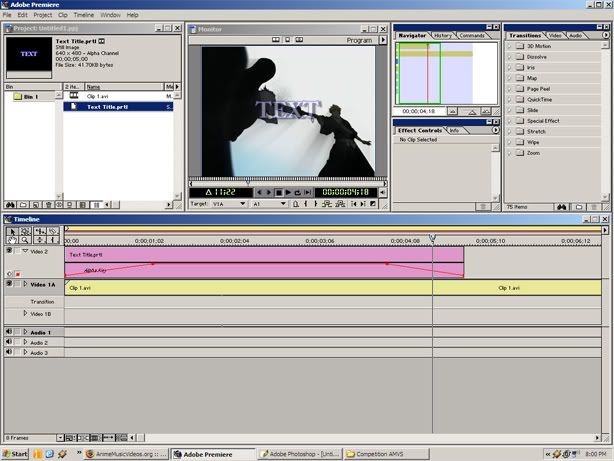 TIP: TO REMOVE A RUBBERBAND POINT, CLICK ON IT AND DRAG UPWARD AND THEN LET GO, IT SHOULD THEN BE REMOVED FROM YOUR RUBBERBAND LINE.
so thats how to do a basic title fading on then off
Any other suggestions on the basics of Adobe Premiere 6.X(don't ask for a tutorial on how to do a certain effect)