UPDATE: WHEN YOU SEND ME YOUR FINAL, INCLUDE IN THE PM THE SONG, ARTIST, ALBUM, AND LIST OF ANIME(s).
Coordinator: Dar
Co-Coordinator: Code
(Title is not official at this point)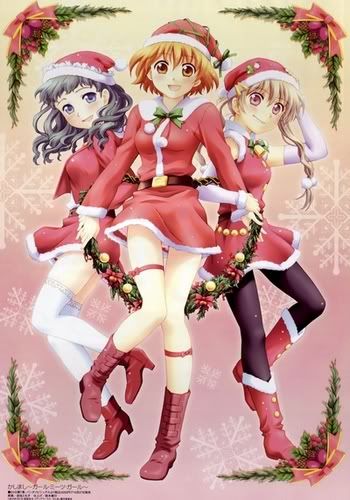 RULES
Ok guys, basically you turn something in and ur in the MEP, u don't turn anything in and u don't get in. Obviously we can't be having extensions since we only have a month.
Animes can only be used one time - UNLESS you are using multiple sources in your part.
Songs can only be used once.
Parts should be at least ~30 ish seconds, and not much longer then 2 minutes.
Must be org-able. No sex or violence.
Must be holiday/winter themed.
Specs
-848 x 480
-23.976whatever FPS
-you must deinterlace and make it high quality urself. i put in ur final like i get it from u.
-finals in h264 MP4 or lagarith
EDITORS PARTICIPATING:
-Dar
-Code
-Kazemom15
-Hasteroth
-Kenzichu
-ngsilver (maybe)
-Knowname
-Zenkia
-Minimoto
-Soup
-Draw it blank
-rurisis
-TwilightChrono
-Angelyco
-DarkSchneider
-RyuksBFF
-Haze.
SONGS TAKEN
-Last Christmas
-A Lovely Way To Spend Christmas by Kristin Chenoweth
-All i want for christmas is you
ANIME TAKEN (single anime parts)
(If you are using 2+ sources, use any sources you would like)
-Kashimashi: Girl Meets Girl
NEW RULE: NO SONG/SINGLE ANIME CAN BE RESERVED, FIRST TO TURN IT RESERVES IT. Too many people have been claiming songs and disappearing completely. So first to get the certain song/ single anime gets it.