Omnistrata did a great post "Big Booty Big Knockers" :
http://www.animemusicvideos.org/phpBB/v ... &start=120
So i'm making one exclusively for big booty anime. How can one not fall to their knees and worship a killer butt like these...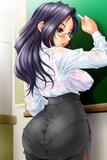 I want to see your faves so post away. As long as it retains that feminine form we all adore and of course is uniquely Big and Shapely share share share.