Forum rules
Please observe the following unique rules for this forum:
Please limit your new threads (not replies) to one per week. If you have several new videos to announce, create one thread for all the videos.

(Note: if you forget one you can edit your post!)

Offsite links are allowed, but you are required to have a catalog entry for that video as well. Threads announcing videos that do not contain a catalog entry will be moved to the Awaiting Catalog Entry sub-forum and will be deleted in 2 weeks if an entry is not created.
When posting announcements, it is recommended that you include links to the catalog entries (using the video ID) in your post.
Videos that do not contain anime are allowed to be announced in the Other Videos section and are not required to have catalog entries.
Joined: Thu May 24, 2001 9:19 pm
Status: Hanging around. Trying to find time to edit.
Location: Canada
Contact:
Hawt. Very Hawt.
---
Joined: Sun Jul 28, 2013 4:38 am
Location: Phoenix
Contact:
Not bad, not bad (he said, scrambling to write the list down of EVERY ANIME INCLUDED.
)
Then it ended. And I myself went to my otaku closet and screamed in horror. Uncertain of my opinion I believe I'll need to watch it again, for the articles of course.
Enough weirdness, I loved this. Too much fun!
---
Joined: Thu Oct 26, 2006 11:52 am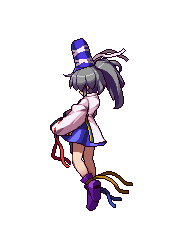 I was pretty blown away by this AMV, m8. Paying attention to some of the transitions and there was a lot of work put into this video. I'm working on a little Fight/Action type AMV at the moment, and it's certainly giving me a solid foundation to give more care to my own transitions in my videos.
---
The sexy Artist
Joined: Mon Jun 04, 2012 2:54 pm
Status: Lighting up the days
Location: California, United States
Contact:
Good one and congrats on your place
---
Being elegantly...lazy
Joined: Sun Mar 16, 2008 12:19 pm
Location: Somewhere
Contact:
Really well edited with a fun and sometimes pretty hilarious mood.
I loved your transitions, they blend so well with the footage and work really well with the AMV as a whole. Also the ending was just perfect. Keep it up girls! I love your videos!
---
Based Dicknugget
Joined: Tue Feb 06, 2007 4:00 pm
Status: Looking for candy
Location: In the car, taking a shit.
Contact:
One of my favorite videos I've seen this year. Really cleanly edited and solid overall. Has some great transition work and creative editing elements. And god did I love dat jiggle sync.
Add me on skype cause im bored: Mycathatesyou0000
---
Joined: Sat Oct 29, 2011 3:49 pm
Location: Italy
Contact:
---
Joined: Mon Mar 15, 2010 10:15 pm
Status: Ching Chong Dumpling Princess
Good job. I dug it.
---
Joined: Tue Aug 21, 2007 10:34 am
Location: Russia
Contact:
Thanks for comments, guys! It's nice that you like this AMV ~
---
---