Forum rules
Please observe the following unique rules for this forum:
All announced videos

must

have a corresponding entry in the AnimeMusicVideos.org database.
You may only make one new thread per week. If you have multiple videos to announce, either wait a week or add them to the same post.
Users that do not follow these rules may have their threads locked or removed without notice. It is recommended that all users read the sticky topics in this forum before posting.
Joined: Mon Dec 24, 2012 9:31 pm
Sometimes, we interrupt our thought patterns...
Author:
IGNOTUM
Anime: Bungaku Shoujo
Song: Half-Life 2 Sound Effects
Download/Preview
Links of Interest:
Last edited by
IGNOTUM
on Fri Jan 25, 2013 6:33 pm, edited 8 times in total.
---
Joined: Sun May 15, 2011 4:57 pm
Status: Yeahhhhh......
Location: AZ
creepy 0.o I like it
~Yo~
---
Drama Text Cop
Joined: Thu Apr 24, 2008 4:43 am
Status: Texty :3
Location: Athens, Greece
Contact:
I love abstract/psychedelic amvs. I could say it's my favourite genre.
This, unfortunately, is
WAY
too abstract. You had me on those 10 first seconds, the minimalistic intro, the ambient sounds... but then, disappointment. It's trying too hard to be mysterious. Transitions didn't help at all, that amount of gaussian blur was distracting. Also, I couldn't find a meaning behind this little story (actually, there's no story at all, just a train passing by), is it about the loneliness of a youngster? Is it about solitude generally? It was a very long shot, and unfortunately for me, it failed.
I would recommend you to watch
Brain Kepher
, it's the best example of what you might do with similar ideas.
---
The sexy Artist
Joined: Mon Jun 04, 2012 2:54 pm
Status: Lighting up the days
Location: California, United States
Contact:
Very interesting thing you did here
---
Joined: Sat Dec 22, 2012 2:58 am
I actually really like it.^^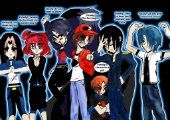 ---
Joined: Tue Jul 14, 2009 1:31 am
Location: Alberta, Canada
Contact:
Loved this =3
---
---
Who is online
Users browsing this forum: No registered users and 9 guests