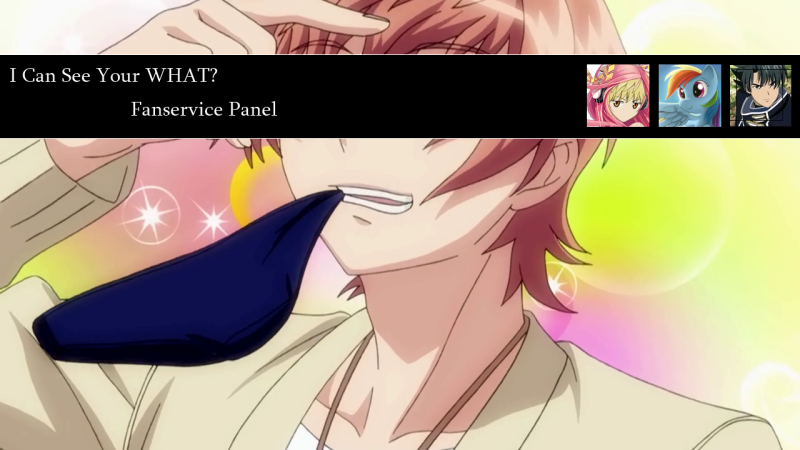 Disclaimer: These interviews are not associated with a-m-v.org, and do not reflect the opinions of its administration.
_________
Description
Welcome to the Lip Flapper! Each week, we delve deep into the community and get a good look into both individual members as well as group discussions on various issues that surround our hobby.
_________
This Week in "The Lip Flapper"
It's romance month here at "The Lip Flapper"! For the month of February, we're hitting up romance editors (new and old), as well as romance-related panels!
This week, we sit down with several editors who can talk to us about fanservice!
_________
The Panel
It's Romance month in "The Lip Flapper", and we're hitting a less subtle aspect of romance.. We're talking about Fan-service!

1) So what does fanservice mean to you?

2) What makes a good fanservice video, and what makes a "bad" fanservice video?

3) Do you enjoy editing/watching fanservice?
_________
Cross/fade
Cross/fade wrote:

1. The first thing that comes to my mind when I think about fanservice are all those awkward pantyshots scenes (and jiggling tits animation) anime creators feed us with. They became some kind of an anime standard together with pool/beach episodes and no anime is complete without those. At this point, after so many ecchi/harem series I saw I'm pretty neutral about fanservice and it's hard to make fanservice in a rememberable way.

Q: So fanservice has lost its impact over the years due to the newer Ecchi series? So perhaps "fanservice" might not be the best title for it anymore, and its become a genre of its own?


I believe it did, I'm watching anime for nearly a decade now and there is a huge difference between fanservice now and fanservice back in the good old days. In my opinion current anime approach this matter in a more aggressive way. For example, camera angles - animators focus the camera on tits or panties without really a good reason for that. And when I say "reason" I mean ... some kind of a comedy routine like the standard "entering the shower getting punched in the face by a female" scene. Now a fanservice anime needs more than that. We need pointless close-ups on panties/ tits with slight camera panning and blurs - in the meantime characters are having a conversation about breakfast/weather or whatever. It's like the priorities are shifting from action/comedy with some ecchi tones to ecchi with ..... what ? And that is the problem - nothing. Having fanservice as a main actor on the stage is just a flawed idea from the very beginning. I believe fanservice is the right word but only if its stays as a "sub-genre" to action/comedy/romance/harem anime etc. Fanservice scenes never had any meaning (or better - deep meaning) in the first place, they are just trying to resonate with our primitive instincts. I think ecchi as a standalone genre would never work out but when I'm watching some anime I tend to think anime creators have a different opinion on all of this.

2. A definition of a fanservice video would be an AMV that uses fanservice scenes as a main "ingredient". Slapping (this word sounds so wrong when we talk about fanservice

) together scenes with tits/asses to an upbeat music is a half-assed (you get it?! half-assed

) job IMO, even if we have good technical skills to make it look nice. A video like that will be enjoyable but I'm not sure if I will remember it after a few days. A good fanservice video needs a theme (other that fanservice) we can build around - like dance for example, or comedy. Now that is something I wanna see.

Q: So you're saying that there's more to fanservice than JUST the obvious boobs/assery of it all, and that viewers want more? Care to give a few examples of AMVs that have done this?

Yes, that's what I'm saying. Now when I think about it the fanservice video definition I created is not as accurate as I would want it to be. There are fanservice videos that are based on ecchi scenes but have a theme. If fanservice is the main course I want my dessert as big as it gets. Good examples are:

SuperS by Kitty-Galia - so yeah, the beach episode theory in the work. We got dance, scenes are connected thanks to the beach theme - good job on this one. (

http://www.animemusicvideos.org/members ... p?v=184220

)

Now the heavyweight champion 58008 everyone knows about made by Zarxrax. At the first glance this could pass as a mindless mess made of random jiggling tits scenes but Zarx clearly states his just making fun from current anime trends and that is what makes this video so great in my eyes (since I like to make fun from the same thing).

(

http://www.animemusicvideos.org/members ... p?v=162704

)

But there are also another kind of fanservice amvs that use ecchi scenes in a more subtle but noticeable way:

The first one that comes to my mind is "Sexy" by VIDOK. I believe the title is very appropriate. AMV got that dark aura to it. And yeah, it's not only ecchi .... it's freaking sexy. (

http://www.animemusicvideos.org/members ... p?v=179210

)

Sniper made an interesting amv "Anime Kiss" and just like the title say it's build around a "kiss" theme, so once again we are not being fed with random stuff. (

http://www.animemusicvideos.org/members ... _id=183368

)

Of course I need to mention JudgeHolden and his Disco Heaven. To be honest his AMV escapes a bit the definition of a fanservice video that I have in mind but he was able (just like VIDOK) to create that sexy aura and a great dance AMV at the same time. (

http://www.animemusicvideos.org/members ... p?v=180817

)

3. You could ask me "Do you enjoy watching harem/ecchi anime?" - well, yes, yes I do kind sir, so as a consequence I enjoy fanservice AMVs as well. Of course, some more than others but I guess I do have a soft spot (hard spot ?

) for fanservice AMVs, especially comedy ones. Actually, the more you make fun of those fanservice scenes the better AMV gets.

Q: You seem to really enjoy comedic fanservice. Is there any thoughts on more "romantic" fanservice (I'm thinking romance novels) that might be successful, or is fanservice doomed to just comedic boob jiggling for AMVs?

In my brain I always connect fanservice with comedy but that is not 100% accurate. I can blame it on the anime industry since harem-comedy combo is really popular right now. I believe it is easier to connect fanservice with comedy or dance than with a serious/drama/romance video. But of course it doesn't mean we can't go in an opposite direction. For example "Just one more chance" by Kitty-Galia is the last thing I would call happy-go-lucky comedy video.

(

http://www.animemusicvideos.org/members ... p?v=179966

)

If you believe you can make fanservice scenes (at this point I'm not sure if I should call them that) look erotic and serious then go for it. Scenes with half-undressed characters can send out a variety of vibes to the viewer since physical contact is also part of romance.
________
JudgeHolden
JudgeHolden wrote:1) To most of us the term fanservice conjures up images of short skirts, panty shots, boobs, bikinis, pretty boys (for the girls), and the like. However, to me (while it does include the aforementioned images) it also includes all the things that are meant to appeal the otaku in general. This could be moe elements, giant robots, magical girl transformations, and so on. Therefore, Moe! We got it! in my mind is a form of fanservice AMV, just like Zombie Service or Panty Raid 2: Fightn' Dirty is.

Q: So the term fanservice doesn't necessarily have to be sexual in nature? What do you think made it have such an association?

Nope it doesn't need to be sexual to be fanservice, it just had to be an element in a show that is there because it's what the fans of a particular genre of anime expect; therefore, "servicing" them. I think we associate it with the ecchi because anime companies figured out the panchira draws in a lot of young males and can be used in any genre of anime. Hence, all anime genres can have any ecchi element (not to mention it's easier to sell merchandise if the girls are in short skirts … or no skirts like Strike Witches).

2) For me a Fanservice AMV has to be more than just fanservice. It needs to include other elements to really bring it to life and keep my interest; whether it is action, comedy, effects, or a storytelling element. If it's just five minutes of boobs bouncing up and down, I'm going to get board really quickly. So, be creative. There is no reason a fanservice AMV can't be as well made as any artsy AMV.

Q: Do you think that having the "fanservice" label (aka: massive boobs) makes it harder for them to be taken seriously as an "artsy" medium?

I'm not saying to make them artsy, I'm just say that just because it is ecchi, doesn't mean you should slap a bunch of panty shots together and call it done. We've all seen comedy videos that fall into the same trap: "It's a comedy, it doesn't have to be perfect!" Which is fine I guess, but I end up thinking that it could have been so much more had they taken the time to do it right.

3) Yes and yes. And I don't care what a certain narrow-minded crowd thinks … yes they have big bewbs and stripped panties, get over it. =P

Q: Quite powerful words there. Do you think that there is still such a harsh/conservative view on sexual themes (even non explicit ones) in today's world of AMVs and in general? Because I personally wouldn't know it by turning on certain channels on my dish.

You see, you are falling into the same trap I did. You think to yourself that Anime fans more on the liberal side … but one has to remember that there is an element on the left that also is offended by fanservice for different reasons. On the Right we have the "OMG! These AMVs perverting the eyes of my children!"; and on the Left we have the "OMG! These AMVs are objectifying women!". I was going to run a Fanservice AMV panel at a certain Midwestern con, but it was turned down, not for the first reason as I would have thought, but for the second. So yes, you will run into it at some point.
___________
ngSilver
ngsilver wrote:

1) Fanservice is a hard term to really hone down on. Generally, as can be seen by this question being asked as a part of romance, the term is often seen in a sexual light. Most anime marked as fanservice are filled with boob and panty shots. That's just how the term is often used. But really it is so much more.

Let's break it down really as the term itself lends to what it is really about. Breaking the term down you get fan and service. Two words that have no real sexual connotation. Service is to serve. Fan is a person who likes something. So when you put the terms together you get a term meaning to serve fans. Or to provide a service to fans. Basically, pandering to a fans interest. So really fan service can be anything that panders to a fans interest. This could be a cameo, famous one liner, or even, as stated before, boob/panty shots.

I find it rather sad that more often then not fanservice is relegated to meaning pandering to male otaku. After all, fan service can really mean anything as far as content goes.

Q: So there's more to the fanservice genre than just the sexual connotations that have been tied into it? Care to give a few examples of anime/AMVs that are non-sexual fanservice videos/shows?

Not to exactly toot my own horn, though these videos are the easiest for me to bring up due to my involvement in them, but the Dance series is perhaps the best example I can give right now. Sure, I have put some standard 'fanservice' in the videos (usually drawing attention to it in the process) each of them both play service to fans of the series as well as general audiences at conventions. Basically, I put call backs to previous Dance videos in the ones that come after, generally in the form of a segment based on a central theme or joke from the videos that came prior. As for playing service to audiences, many of the clips and segments were put in place due to their overall fan popularity. The most blatant use of these was in Dance 4.0.

Though I suppose another way to think about this is to draw attention to videos made for fans of certain anime. A lot of new editors tend to make videos like this. Videos that are only really understood if you know the source material. This is playing to the interests of the fans of the show. Much of the My Little Pony videos are like this. In fact, stuff like this is all over youtube. Just look at all the different variations of Avast your a$$ or Night of Fire or Tylenol or Intensive blank unit ect. Each one of these videos are made purely for the enjoyment of fans of these fads/memes/video types.

But perhaps the best overall example I could provide is actually in a My Little Pony Episode. The most recent episode that aired this past Saturday. I'm talking about Season 2 episode 14, The Last Roundup. In the beginning of this episode the creators had Derpy Hooves, a background character that the fans ran with, actually TALK. Not only this, but they had Rainbow Dash actually refer to her as Derpy rather then the previously used name Ditsy Doo. The fans ate this up. Nothing about the scene was sexual in any way, but it was still pure fanservice through and through to the whole brony fandom.

2) Really, a good fanservice video follows the same formula as any good video. Having a good idea or concept, good execution, and good music. Without these things no video can be good. As such, a bad fan service video doesn't follow these things.

Q: So regardless of genre, a video needs to have these things in order to be successful? Wouldn't fanservice videos (both sexual and non-sexual as you described above) need to have an overt focus on things directly related to the fan pandering?

In my opinion yes, any video needs to have those elements to be good. As an AMV is a pairing of anime and music if the music isn't good then the execution often is also at fault and perhaps also the idea/concept. They all really go hand in hand. Obviously the term good is subjective based on the viewer, but even so if I don't like a song I rarely will enjoy a video.

And in a way a fanservice video would need to have a focus on fan pandering, but that is all part of the concept/idea of the video as a whole. Even with a ton of fan service blasted in your face if the execution isn't done properly all the video would have going for it is the fan service. True, people may still enjoy said videos, but a really good fanservice video, one that can stand the test of time and continue to be enjoyed for years on end, had to have a good concept/idea as well as execution. After all, if all a video has going for it is it's fanservice then it will get old to watch after a while. People get bored with the same thing over and over again and with nothing else to make it new the video will just stagnate and be forgotten.

3) You might be surprised to know, that as far as fanservice goes, I don't actually enjoy it. Well, the standard term for fanservice that is. This goes for anime and for videos. Usually fanservice is an almost immediate turn off for me. Either go all the way with the sexual content, or don't do it at all.

Q: Is there a particular reason why the fanservice genre is a turnoff for you, or perhaps a way that the genre could be improved upon that might make you enjoy it more?

I pretty much said it already. What irks me about fanservice is the blatant in your face nature of it and the complete needlessness of it. After all, what relevance to the plot of a story does random panty shot or breast bullet time actually hold? Rarely is it ever actually relevant. As such it shouldn't even have been animated. If there is no story relevance for a 6th grader to have a ZZZ cup size other then to get a poor sexually frustrated otaku's rocks off because they have a kink for that kind of thing, what real point is there as far as expressing a story or adding value to the base of anime work as a whole? In the end the story boils down to nothing but lets see what we can have the characters do in order to provide the most fanservice in an episode as we can. It's just like story in pr0n, just there to loosely get a viewer from one CG to the next, and the story itself suffers because of this. So many interesting stories and character interactions that were never properly played out because of this.

TL;DR - Daddy don't want to see no stinking panties! Daddy wants to see the real thing! Either go all the way or don't bother!
____________
After Thoughts
Fanservice seems to have a lot of different opinions about it. When they've got good editing and a funny premise behind them (Under/Where by Cross/fade, Panty Raid by Judgeholden, Dance AMVs from ngsilver, or Fanservice by Autraya), they can be some of my favorite videos! Then again, pretty much everything I enjoy is fanservice related (and not in the panty/boobs way). I love easter eggs in anime/video games (like finding the Red Dead Redemption hat in L.A. Noire or the Portal references in L4D), find in-jokes hilarious (such as breaking the fourth wall with anime fans), and love filler episodes.
____
Monthly Calendar
February 6: xDreww InterviewFebruary 13: Fanservice Panel
February 20: Magnus Interview
February 27: Convention/Contest Panel
____
Past Interviews/Discussions
Shin-AMV
Pwolf
Scintilla
Lip Flap
AimoAio
Youtube Panel + Bonus BakaViking Interview
Kosmit Interview
Youtube Panel Pt 2
xDreww
____
Next Time on "The Lip Flapper"
Join us next week as we speak with Magnus. He's a long time member, great editor, and just all around great guy. We talk a little about romance AMVs, but then we also get to know about his personal struggles with health.